INTRODUCTION
IMPLAN has pre built Dashboards that are a helpful starting point for each Data Library Section. Find these Dashboards from the Dashboard tab along the top of the page within the Data Library.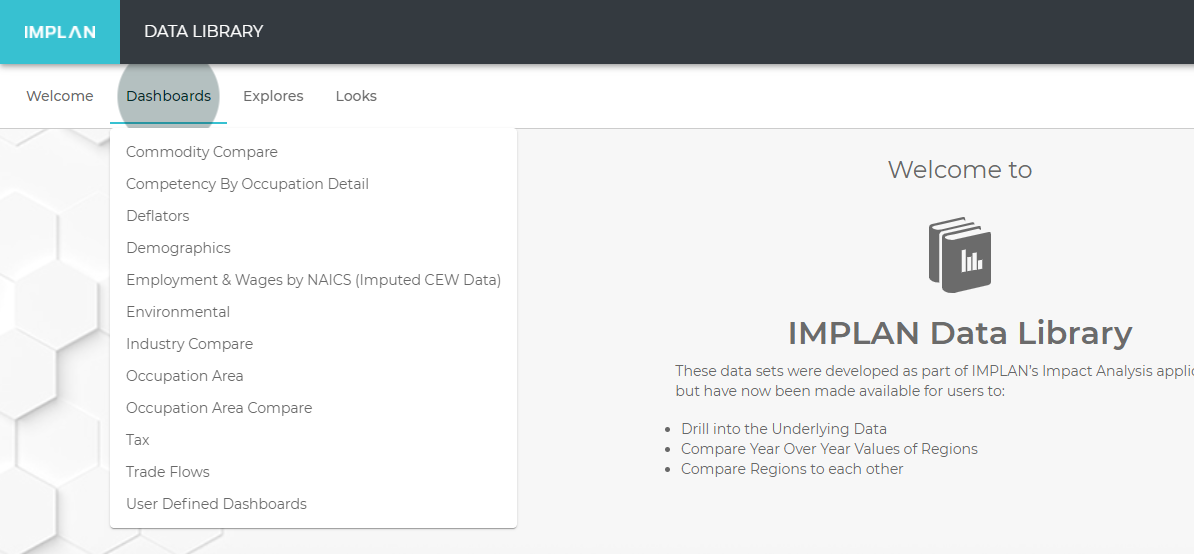 Learn more about each of the respective Dashboards here.
CREATING A DASHBOARD
You can also build your own Dashboard! Creating a Dashboard allows you to pull together visualizations of multiple data queries and add text to build a research summary. Dashboards are made up of Query Tiles, Look-Linked Tiles, and Text Tiles. Query Tiles and Look-Linked Tiles are both visualizations of data queries. There are many graphical options as well. Learn more about Visualizations Types and Creating Visualizations and Graphs From Looker. Text Tiles include text, which is helpful for adding headers, notes, and other descriptive text to complete your research summary.
Query Tiles can be defined from an Explore by saving a Report to a Dashboard. Use the gear in the upper right for this option as well as several other options.

There are several routes to starting a query visualization that will be added to a Dashboard. Data can be explored and added by start from scratch from an Explore, or by exploring a Look or a tile of an existing Dashboard.
Looker provides additional resources to help you Create and Edit Dashboards and Reports (Looks). Checkout the video and see Creating and Editing User-Defined Dashboards section!
Dashboards will be saved under Dashboards > "User Defined Dashboards".
A Dashboard can be deleted from within the Dashboard by clicking the Table Menu (three dots in the upper-right corner), then choose "Move to trash".
Written October 20, 2020
Updated May 14, 2021