INTRODUCTION
Value Added represents the difference between Output and the cost of Intermediate Inputs throughout a defined economy during a specified period of time. It equals gross Output (sales or receipts and other operating income, plus inventory change) minus intermediate inputs (consumption of goods and services purchased from other industries or imported). Value Added is equivalent to the Industry's contribution to GDP.
Value Added is a large portion of Output, as it encompasses Labor Income (LI), Proprietor Income (PI), Employee Compensation (EC), Other Property Income (OPI), and Taxes on Production and Imports (TOPI).

DETAILS
Value Added (VA) communicates a lot of information in just one number. This is because it is a combination of EC, PI, TOPI, and OPI. Establishing a thorough understanding of what VA truly represents and exactly how it is calculated is one of the most effective steps that you can take in preparing to defend your study's findings against possible critique. Plus, a comprehensive grasp of VA, its components, and the relationships between them as contributors to Output enables users to interpret resulting VA figures with more accuracy.
As with any economic indicator, VA figures exist at many different levels of granularity. Because it represents the difference between Output and the cost of Intermediate Inputs, a given VA figure may represent that difference throughout an entire regional economy, a single Industry, relative to the production of a single Commodity, and more. The two main locations where VA figures can be found in IMPLAN are on the REGIONS screen and on the RESULTS screen. Below is a brief discussion about the difference between the types of values in each location.
WHERE TO FIND IT IN IMPLAN
ON THE REGIONS SCREEN
The REGIONS screen offers a massive assortment of data points which allow users to examine defined economies inside and out by browsing Industry- and/or Commodity-specific figures like employment numbers, wages paid, spending behavior, and much, much more in one centralized location. Overall information on VA can be found on the Overview page.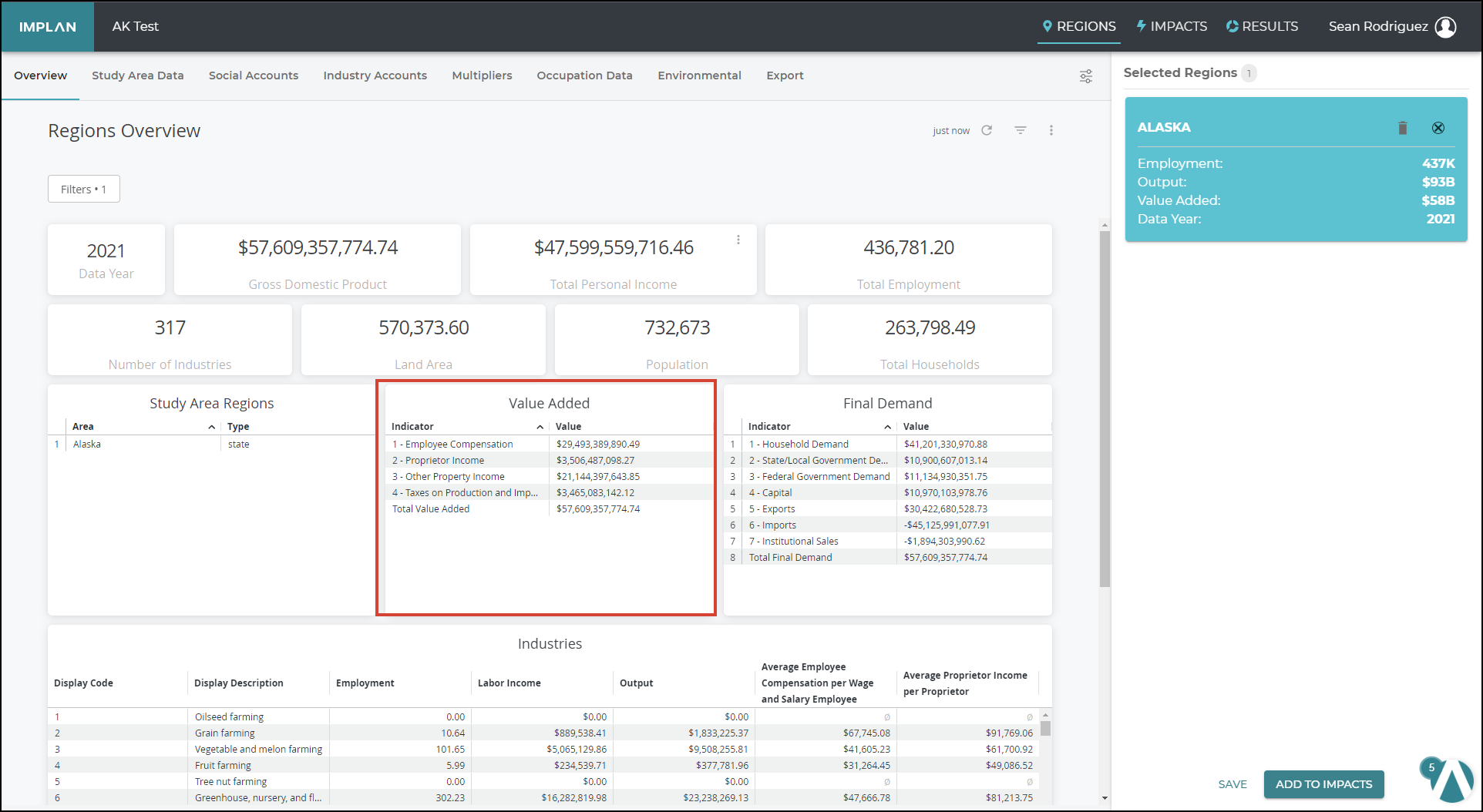 Detailed information on VA by Industry can be found by navigating to Region Details to
> Social Accounts
> Balance Sheets
> Industry Balance Sheet
> Value Added
> Filter for the Industry of interest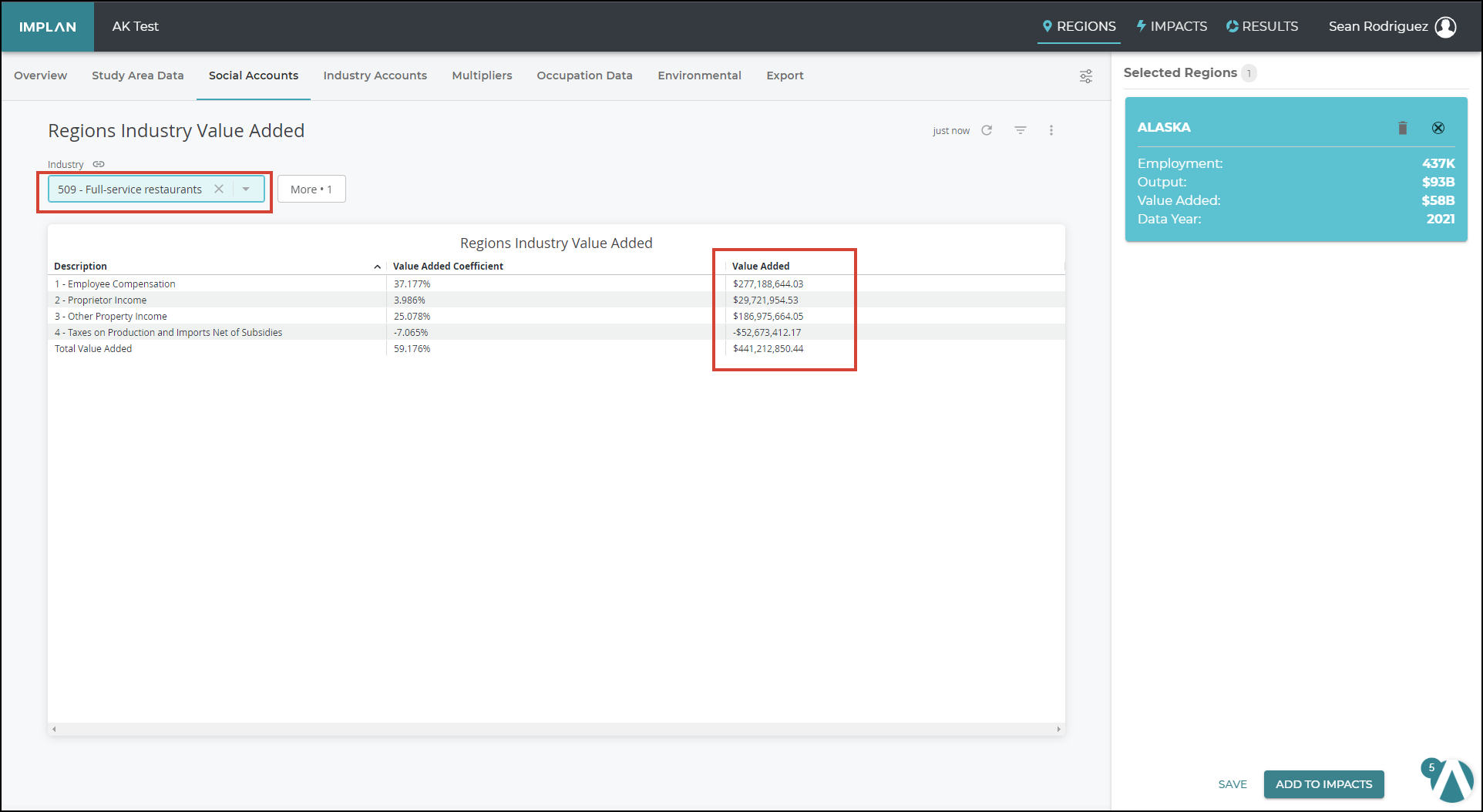 ON THE RESULTS SCREEN
The Summary Results screen will show you an overview of Value Added. You can also dig into the details by clicking on the Value Added tab to see the complete list of impacted Industries by each component of VA: EC, PI, TOPI, and OPI.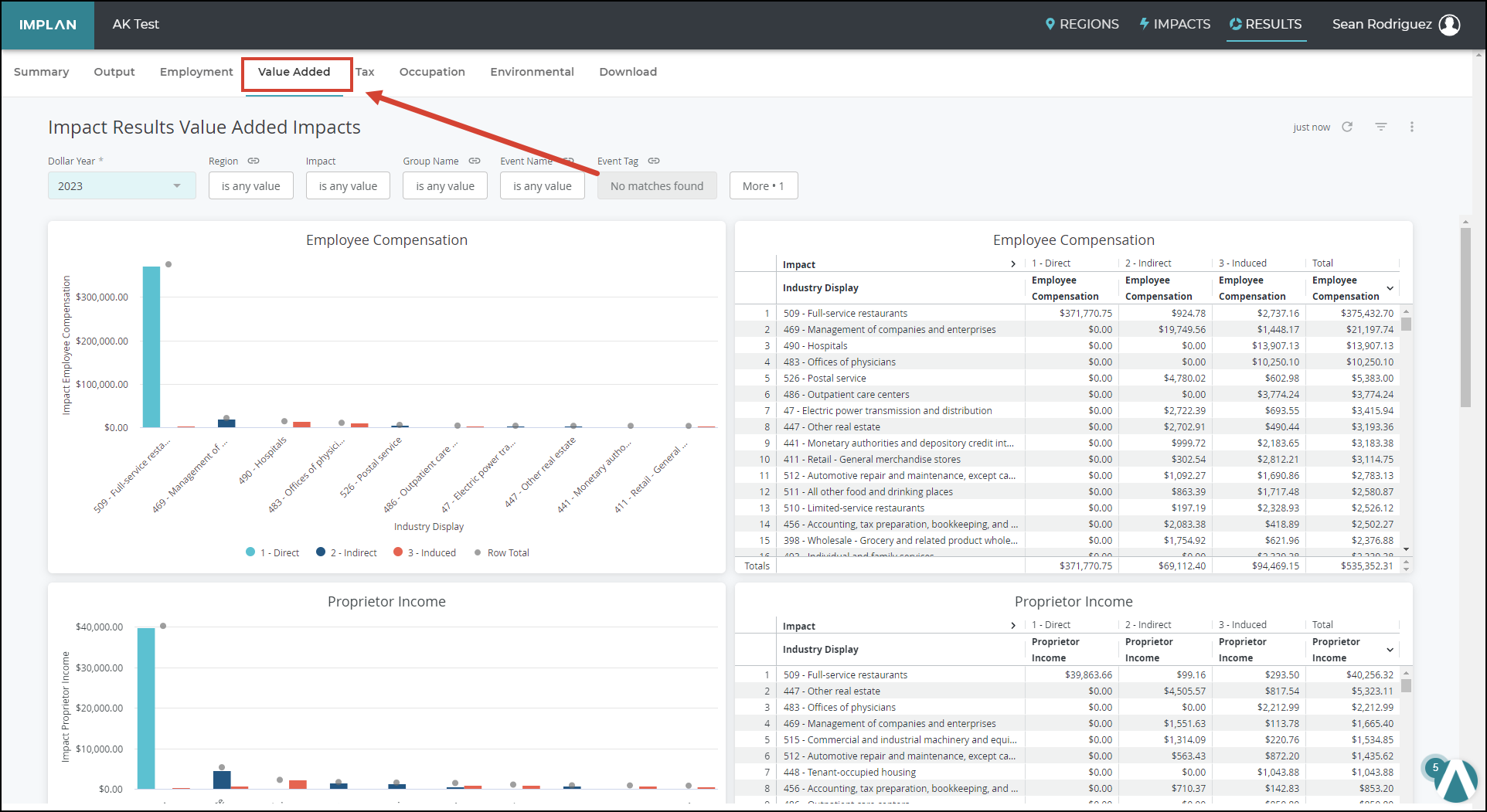 HOW IS IT CALCULATED?
There are multiple ways to calculate Value Added. Because it represents such a large portion of total production, VA is made up of many components which may form other composite metrics in their own right when grouped or combined in specific ways. So, calculating VA requires exploiting the relationships between any components of it which are explicitly known and any which are not since each component represents a different "piece of the same numerical whole."
Value Added is

and

Updated February 26, 2020