INTRODUCTION
Surveys are a great way to gather information about a group of people. Surveys are also a fantastic method for gathering information to use as data for input-output analysis. You may want to glean spending by students at a university or visitors to a sporting event. Gathering primary survey data can be an invaluable piece of your IMPLAN analysis.
KEY CONSIDERATIONS
When designing a survey, remember to think through a few important considerations. The Five Ws are a great way to outline your analysis.
WHY
The first question to ask is why the study is being performed to frame your entire survey design. Knowing what you or your client is interested in learning from the project will guide you in the process. Perhaps they are only interested in spending by international visitors or students. Maybe they only want to know about spending on recreation and amusement facilities.
WHO
Who will you be surveying? You need to ensure that you are only gathering data from those that fit into the profile of those you want. For example, surveying people that are on a college campus does not necessarily mean that they are college students. Also, when looking for tourist spending, expenditures of local residents should not be included unless you are only looking at an Industry Contribution Analysis. You will want to ensure you collect enough surveys to have statistically significant results. A simple Google search for survey sample size calculator or your favorite statistics book can help you determine how many surveys you will need to collect.
WHERE
The next consideration is where the survey will be administered. While studies are often done on-site and via mail, in recent years, web surveys have grown dramatically in popularity. Determine what data collection method works for your team and your budget.
WHEN
Next, you need to decide when the survey will be administered. Think about the best time to survey your population. If you want to look at tourists visiting an amusement park, a rainy day might not be your best choice. Perhaps the best option is to find people at a large event like the Superbowl or a national political convention. Students on a university campus might be around at the start of September, but consider waiting until the end of the first semester to ensure that they have a good grasp on where their money is being spent. Picking the best time to get the most responses is very important.
WHAT
The final piece is the hardest part of the design process. What should we ask? Here are a few things to keep in mind when designing your survey questions.
Keep it short - people lose interest pretty quickly

Ask questions that aren't too personal - no one wants to share their annual salary with a stranger

Ensure that your questions are easy to understand - think 8th grade reading level

Avoid bias in your questions

Use questions you can quantify

You'll want your survey responses to easily translate into IMPLAN inputs in terms of Sector and Event Value(s). The questions should be framed in a way that it is obvious how much was spent locally on each type of purchase.

Limit the use of open-ended questions

Consider adding in a few questions at the end of your survey to add commentary to your analysis

Did you enjoy the city/event?

What surprised you?

What could the event organizers improve?

Will you come again next year?
Remember, don't get too caught up in all the details of exactly how each person spent their money. Asking too many questions increases the likelihood that people won't finish the survey.
So you are ready to start writing your survey questions. The key is to think through all the possible ways that your population might spend money and then prioritize the most important pieces for your survey, being careful not to ask too many details. Here are some examples of data points you may want to collect.

Student Spending
Tuition - remember not to count this under both student and university spending

Books

From bookstore

From online retailer

Housing

On-campus

Off-campus

With relative

Transportation

Gasoline

Parking

Repairs

Public transit

Food & beverages

Alcohol (it's college, right?)

Recreation & amusement
Retail

Local

retailer

National

retailer

Online

retailer

Tourist Spending
Lodging

Transportation to the city

Transportation within the city

Bus

Ride sharing

Rental car

Gasoline

Food & beverages

Retail

Local retailer

National retailer

Recreation & amusement

Business Spending
Employment

Employee Compensation

Proprietor Income

Sales/Output

Revenue
Be sure to include any limiting questions in your survey to exclude data from those that are not part of the interested population. You may consider asking questions to segment your sample by gender, age, or another factor. In this case, you may need to collect more surveys to ensure you have a statistically representative sample for each segment you want to measure.
PREPARING SURVEY DATA FOR IMPLAN
Now we can construct an outline for visitor spending. First, we need to tally up the results of the survey and create an average spend by category. Be sure to look for any outliers in your data. Perhaps one person spent $25,000 on a flight from Korea for the golf event; consider modeling these extreme outliers separately. With the remaining data, create an average spend per Sector.
Next, calculate the average number of days each visitor stayed in town for the Big Game. Keep in mind that visitors that drive in for the day will spend significantly less than guests that stay overnight, so consider splitting day and overnight guests in your analysis.
Now estimate the total number of visitors. This may be available from the event organizer, total ticket sales, stadium capacity, or previous event estimates.
Finally, multiply across to get totals for each Sector by taking the per person spending x the total visitor days x total visitors.

Alternatively, you can let IMPLAN do this math for you by using the Scaling feature within the Advanced Menu of your Group. Individual Events can be scaled as well as an entire Group.
THE PROCESS
Based on our survey data, we can now put our Events in IMPLAN. In our example, let's say we are going to model the visitor spending for the Big Game that was held in Charlotte on the entire state of North Carolina. We have a per person spending profile of $1,100, we know that each person stayed on average two days, and we know there were 50,000 guests in for the game.
Since we know what items and services people were purchasing, but not necessarily from what businesses they bought, we use Commodities. Below is the total spending profile:
| | | | | |
| --- | --- | --- | --- | --- |
| Commodity | Description | Per Person Per Day Spending | Per Person Total Spending | Total Spending |
| 3507 | Hotels and motel services, including casino hotels | $300 | $600 | $30M |
| 3414 | Air transportation services | $400 | $800 | $40M |
| 3418 | Transit and ground passenger transportation services | $50 | $100 | $5M |
| 3509 | Full-service restaurant services | $100 | $200 | $10M |
| 3411 | Retail services - General merchandise stores | $100 | $200 | $10M |
| 3497 | Commercial sports except racing | $150 | $300 | $15M |
| TOTAL | | $1,100 | $2,200 | $110M |
Now we are ready to put the data in IMPLAN. Create the Region and add each line of spending as its own Commodity Output Event. In our example, each line of spending could be entered with the third column values above as the Event Value and the Scaling could be left at 1, or we could enter the first column values as the Event Values then Scale the entire Group by 100,000 (2 days * 50,000 guests).
There are a few additional considerations as highlighted in gray. For the airfare, we can only assume that about half of that money would stay in the state economy; the other half likely leaks to their home airport. To adjust for this, set the Local Purchase Percentage (LPP) to 50%.
If the survey has been designed appropriately, dollars spent locally should be easily determined. In our example, the table above is all local spending expect for the airfare, so for each of our Commodity Events other than the airfare Event, LPP will be left at 100%.
For the retail spending, we asked the guests what they spent while in town for the event, so we need to think about margins. The prices that were paid at stores represent Purchaser Prices or Total Revenue, so we will leave the box for Total Revenue checked. This tells the model that to convert these to Producer Prices or Marginal Revenue before applying the Multipliers.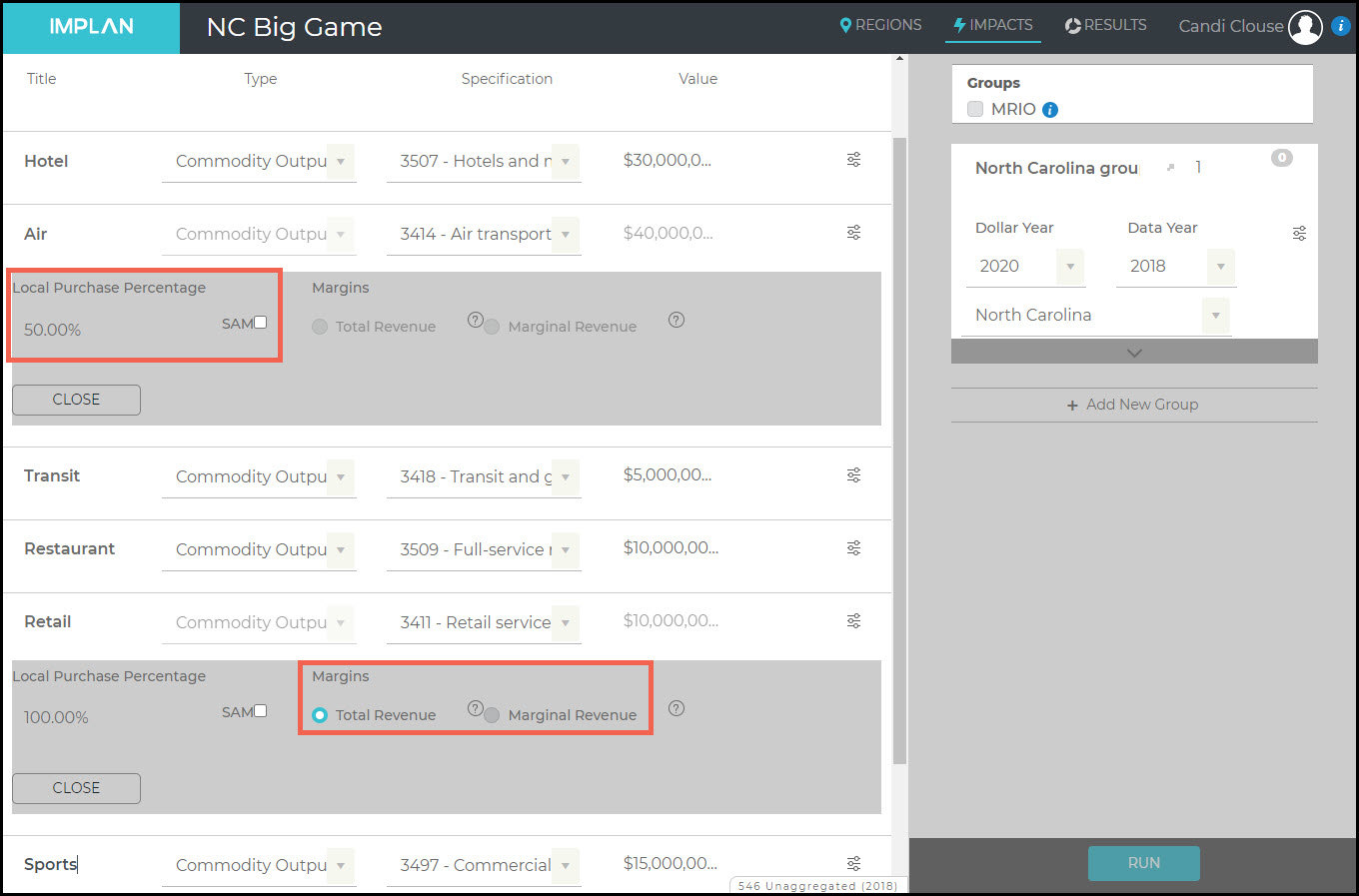 Drag your six Events into your North Carolina Group and click Run. Now we can click on View Results to see the economic impact of visitor spending at the Big Game in North Carolina.

SECONDARY DATA
If you can't administer a survey, there are many great estimations available from convention and visitor's bureaus and tourism boards. Many states, organizations, government departments, and others conduct their own surveys every year on average visitor spending by major category. This data can be used in conjunction with a bit of knowledge about the scale of your event.
REMEMBER TO SHARE
Remember to always give detailed information about your methodology in your report. This allows people to understand your assumptions and potentially replicate your study so they can fact check your results.
WEBINAR
Impacts Big and Small: Modeling Survey-Sourced Data on Regional, State, and National Levels
RELATED ARTICLES
TIPS FROM THE WEB
Kuhn. G. (2019). 7 Tips to Help With Travel and Tourism Surveys | Visitor Market Research. Retrieved from https://www.driveresearch.com/single-post/2019/01/25/7-Tips-to-Help-With-Travel-and-Tourism-Survey-Visitor-Market-Research.

White, S. (2010). Measuring Tourism Locally. Retrieved from https://www.visitbritain.org/sites/default/files/vb-corporate/Documents-Library/documents/England-documents/3_v_surveys.pdf.
Updated July 21, 2020