INTRODUCTION
Sometimes the Industry that we want to examine does not exist in IMPLAN yet. When the Industry you want to examine does exist in IMPLAN, but not in your Selected Region, we recommend Adding an Industry by Customizing the Region.
But perhaps the Industry is a new Industry altogether. It might be an Industry that only recently became legal (or maybe is still illegal) or perhaps it is something new altogether. This article outlines the best way to analyze these new Industries in IMPLAN.
NAICS UPDATES
The North American Industry Classification System (NAICS) is updated every five years. This is when emerging industries are added and outdated industries are deleted or collapsed into broader categories.
This lag in federal data can pose a problem for researchers. When a new widget is invented, it is usually categorized with a similar product or under one of the catch-all codes like "all other…" until the NAICS can catch up.
NEW INDUSTRY
If the Industry you are analyzing is brand new, we recommend starting with an existing IMPLAN Industry and making modifications to the spending pattern that more accurately reflect the new business.
Let's take the example of hempcrete building blocks. This new technology provides thermal insulation, is resistant to mold and termites, is energy efficient, and carbon negative! But guess what? There is no NAICS code for hempcrete. The hemp fiber falls under Industry 110 - Fiber, yarn, and thread mills, which clearly won't work. However, concrete block manufacturing falls under 205 - Concrete block and brick manufacturing, so that will be where we start.
Let's take an example of a new hempcrete manufacturing firm planning to open up in North Carolina. Lucas Environmental is planning to hire 100 employees with an average Employee Compensation of $75,000, one proprietor with a Proprietor Income of $250,000, and an estimated $12.5M spending on Intermediate Inputs. We can easily set this up using an Industry Impact Analysis (Detailed) Event.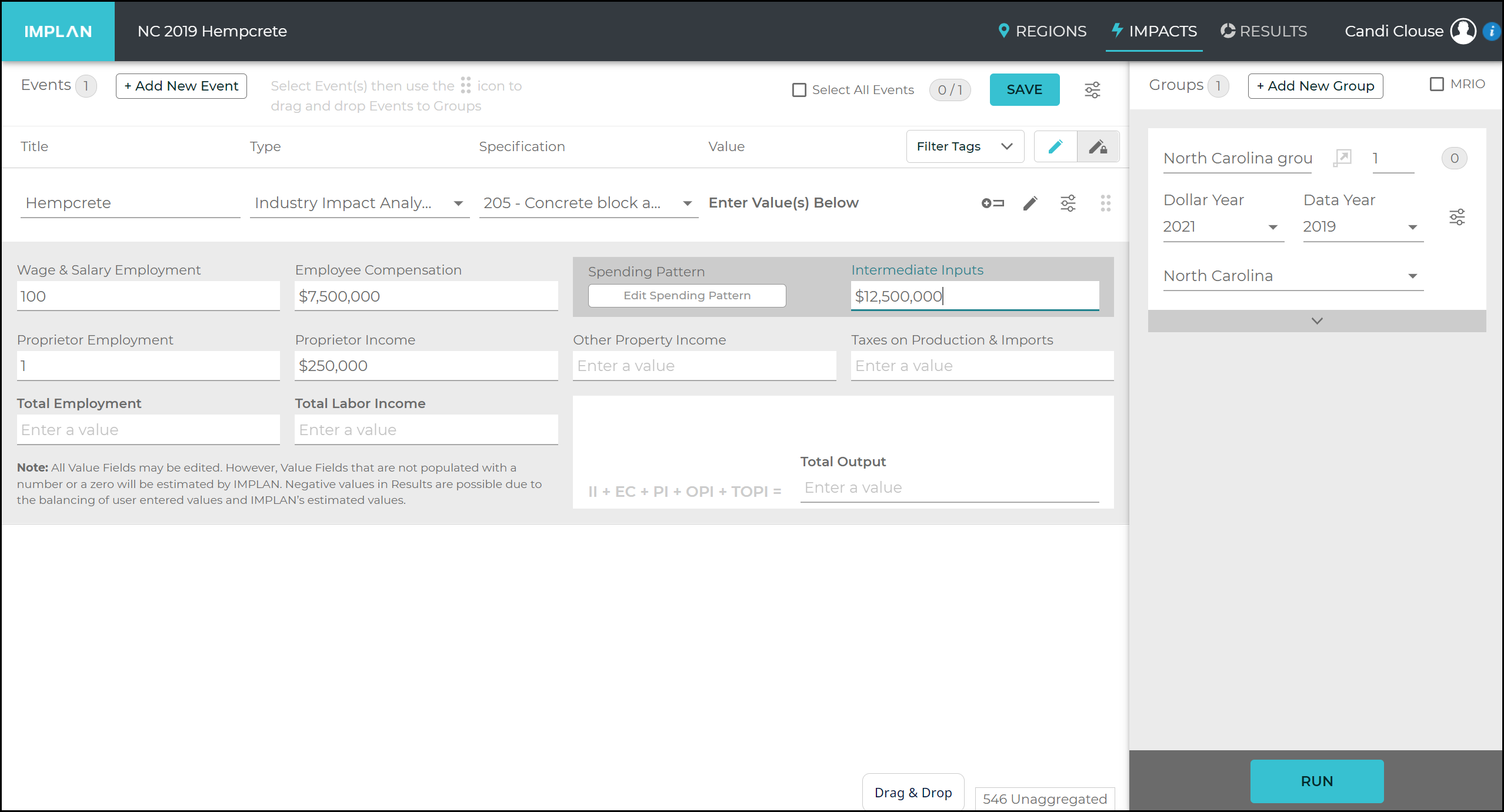 Opening up the spending pattern, we can see how the Concrete block and brick manufacturing Industry will spend its money on Intermediate Inputs. As expected, they do not purchase any crops. Lucas Environmental has told us that they will spend 20% of their Intermediate Input spending on hemp. They will also spend nothing on Cement, Ready-mix concrete, Concrete blocks and bricks, or Other concrete products.
We can add the Commodity 3010 - All other crops with 20% of the spending. This will be created at the bottom of the list of Commodities and will be teal in color. The Sum of Percentages is now at 120%.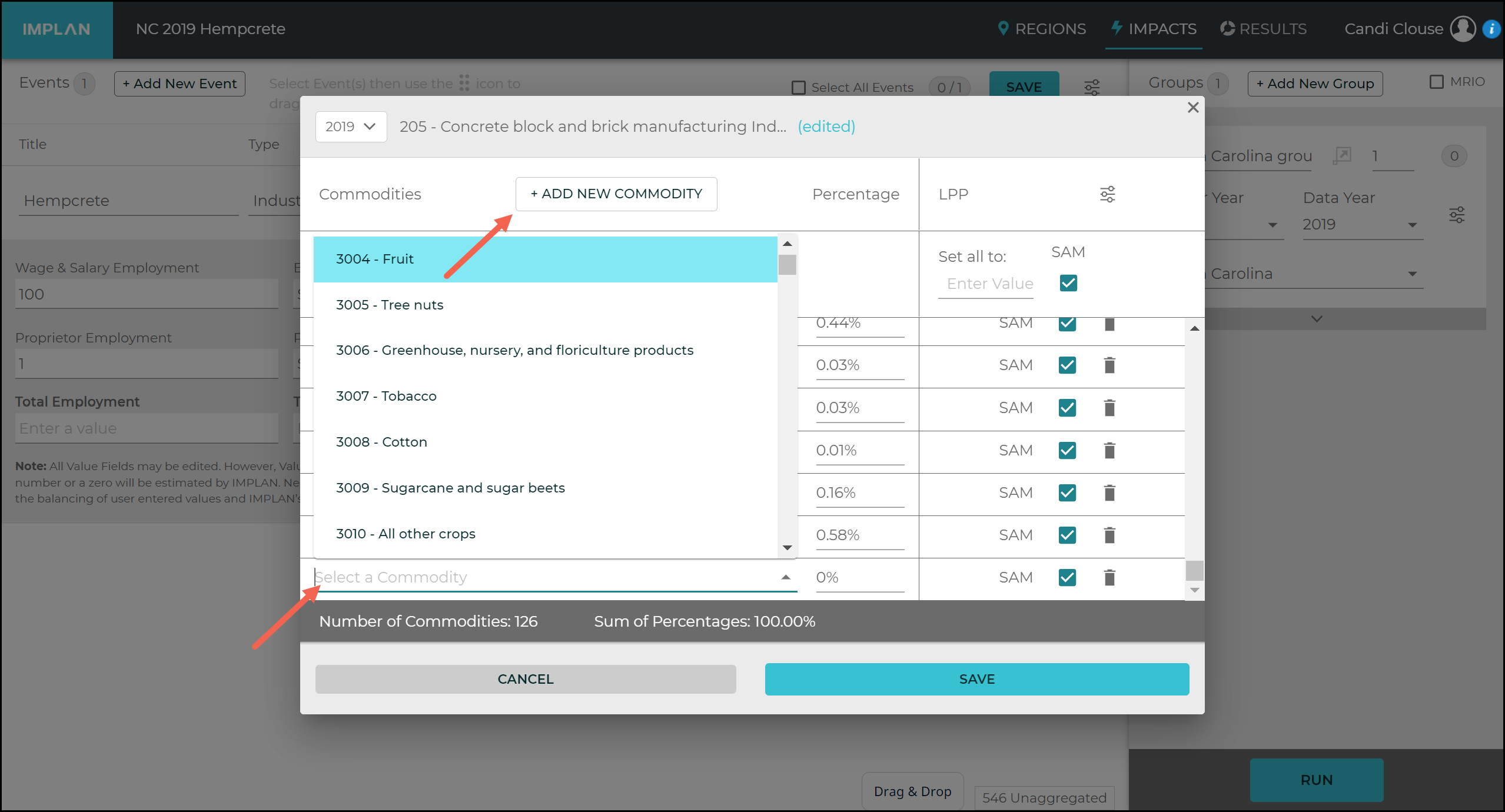 Next, we will scroll to the Commodities related to concrete and delete each by clicking on the trash icon. These four Commodities are: 3203 - Cement, 3204 - Ready-mix concrete, 3205 - Concrete blocks and bricks, and 3207 - Other concrete products. Now the Sum of Percentages is 108.88%. Click the menu icon to normalize the spending so it equals 100% and click save. Now we are ready to run the analysis.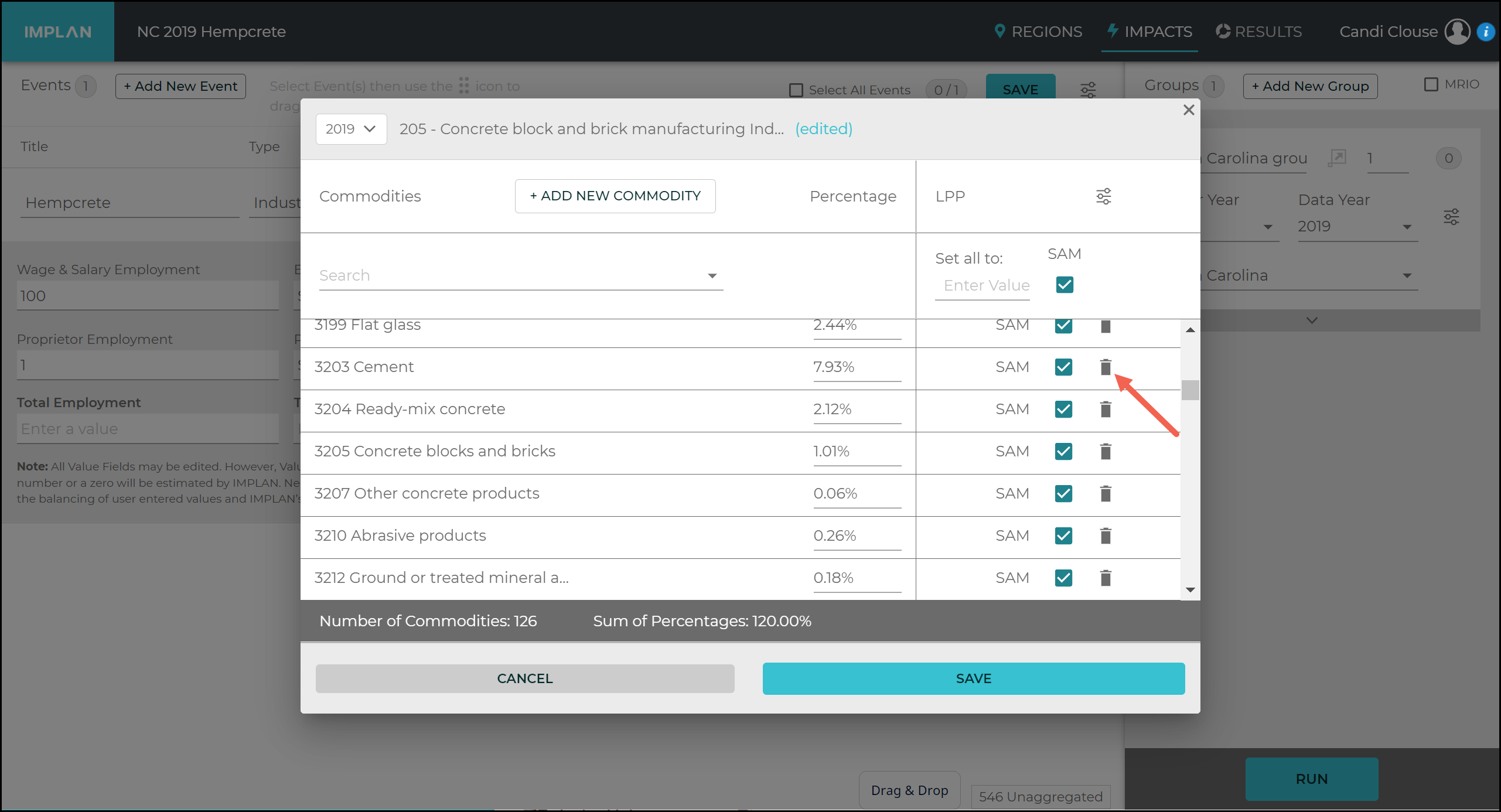 Our direct results show our 101 employees (Ms. Lucas and her 100 employees), their combined Labor Income of $7.75M, and the $12.5M spending on Intermediate Inputs ($25.3M in Output less $12.8M in Value Added).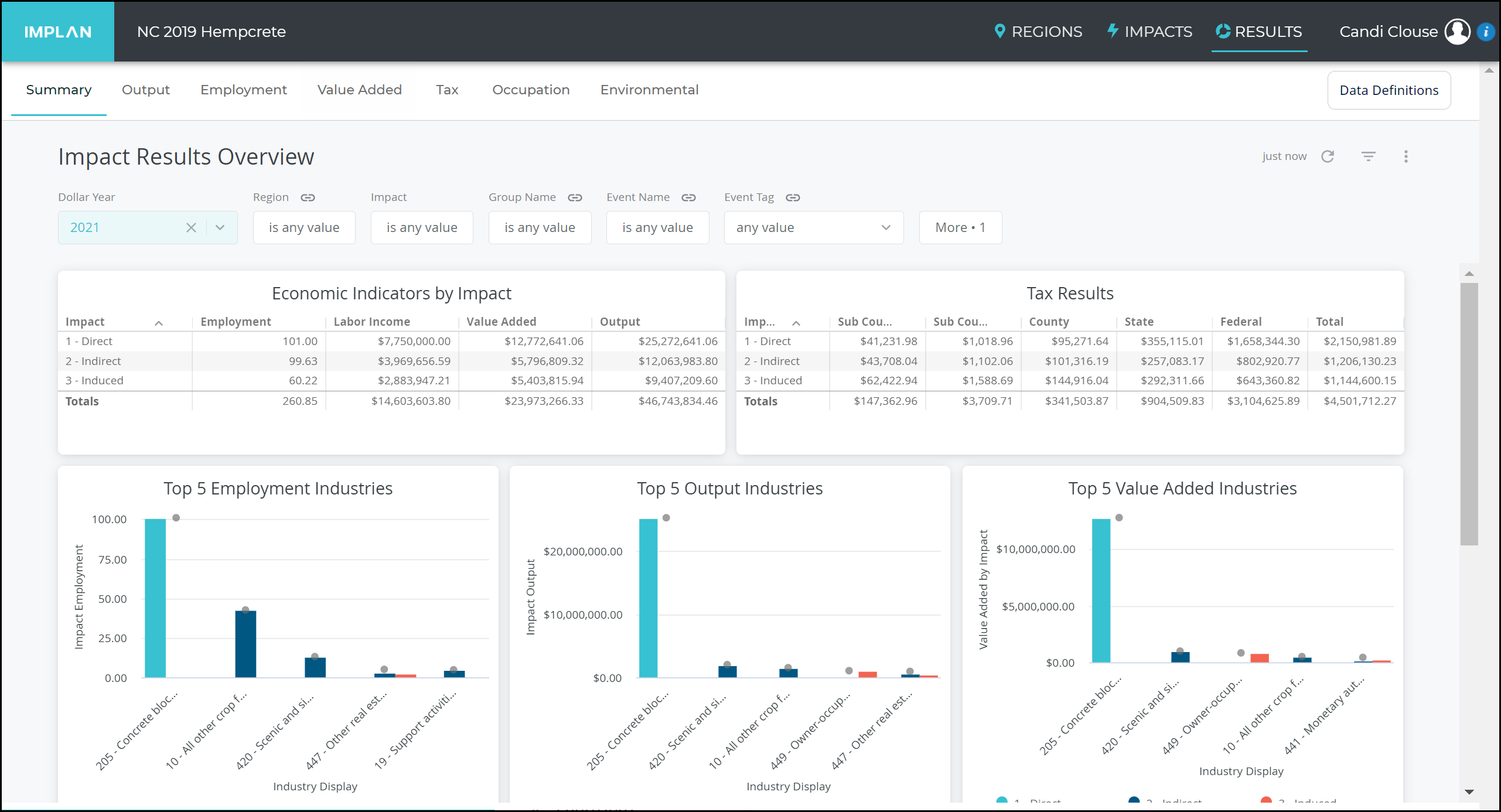 Remember, however, that hempcrete is carbon negative. So, when we look at our environmental impacts, we will want to zero out the direct carbon impacts. In this case, Lucas Environmental will not have the 1.9M kg of CO2 released in the Direct Effect which takes the total CO2 down 26%!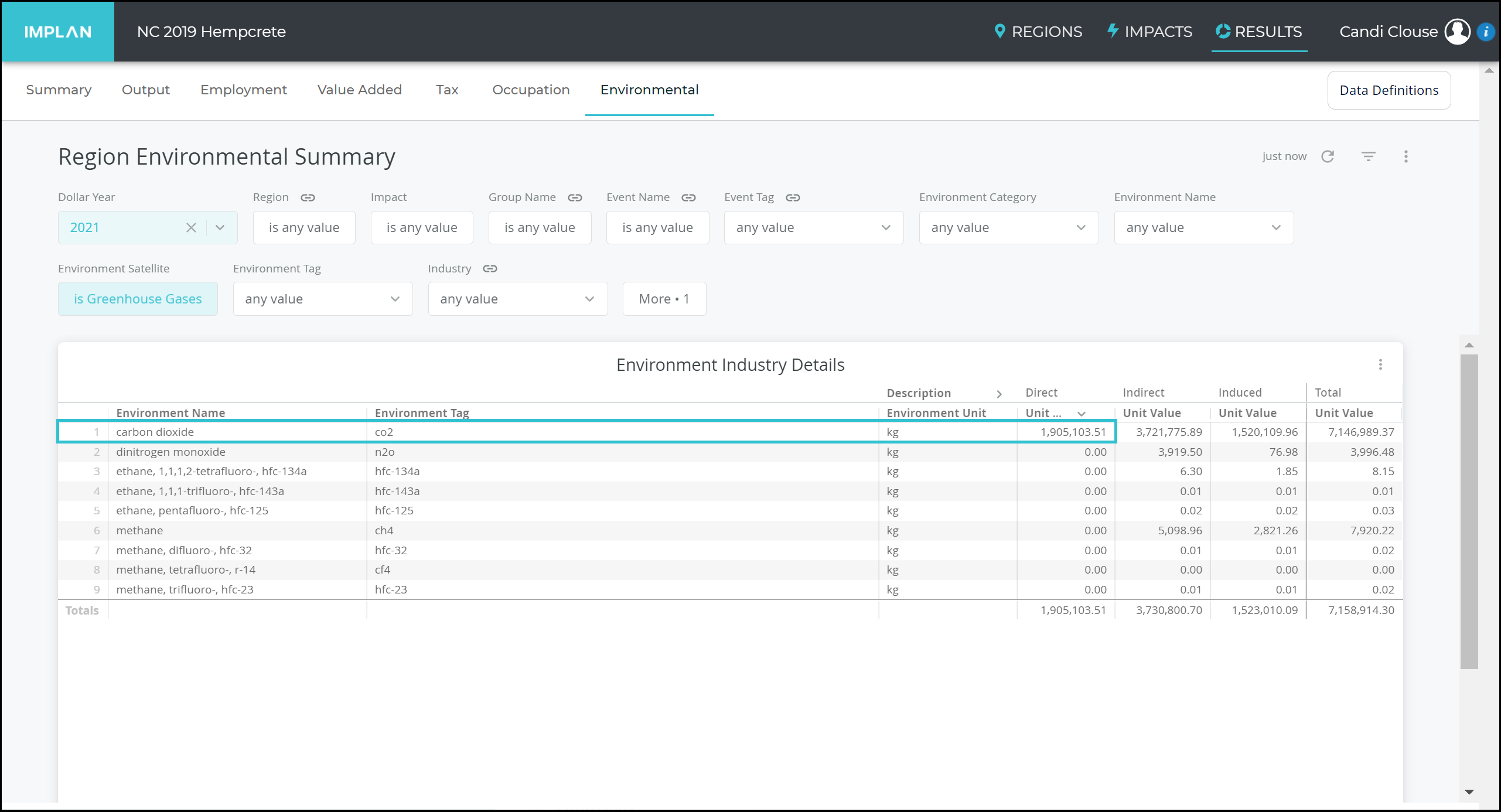 INDUSTRY DOES NOT EXIST
If an Industry or a Commodity does not exist within the regions you are analyzing, a warning will now appear to inform you of each Event and Group once you select Run. If you choose to continue without making changes, those Events will not generate any results. Learn more about Adding an Industry to your Region.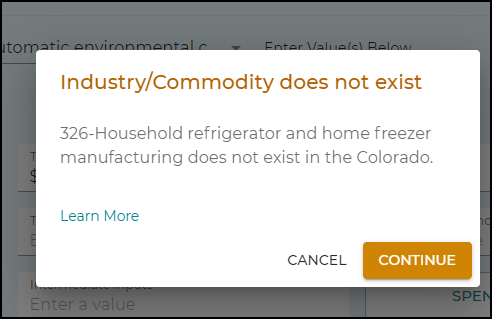 ILLEGAL ACTIVITY
Illegal activity like prostitution, illegal drugs, illegal gambling, and theft from businesses is not captured in the national data. If you want to examine the economic impact of something that is illegal, you will have to make your own assumptions about the production function of that industry. In this case, again start with an existing Industry and make modifications to the spending pattern that more accurately reflect the new business.
One interesting case is that of the legalization of cannabis or marijuana production and sales. The 2017 NAICS do have information on where the pieces of the supply chain fall for marijuana:
Marijuana, grown under cover - Industry 6 - Greenhouse, nursery, and floriculture production

Marijuana, grown in an open field - Industry 10 - All other crop farming

Marijuana merchant wholesalers - Industry 400 - Wholesale - Other nondurable goods merchant wholesalers

Marijuana stores, medical or recreational - Industry 412 - Retail - Miscellaneous store retailers
GOVERNMENT RESOURCES
Including Illegal Activity in the U.S. National Economic Accounts
North American Industry Classification System 2017
Tracking Marijuana in the National Accounts
Written December 27, 2021
Updated September 21, 2023