INTRODUCTION:
IMPLAN estimates an in-commuting rate for all regions - how many people work in the region and go home to another region. This article will show you how to see what IMPLAN estimates as the in-commuting rate and how to adjust it if you have more specific information for your project. The good news is that although there are quite a few calculations to adjust for your known in-commuting rate, we have a spreadsheet to ease the pain.
FINDING IN-COMMUTING RATES:
There are a few steps to figure out the in-commuting rate in IMPLAN. To view the data for your region, click into Region Details to find the study area data for your region.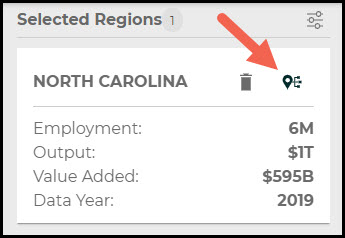 Next, we can find the in-commuting data for the Region. Navigate to:
Social Accounts
> IxC Social Accounting Matrix
> Aggregate IxC SAM
The Social Accounting Matrix (SAM) can be interpreted as columns making payments to rows. We will be focusing on the Employee Compensation (EC) (5001) column. The payments from the EC column to the Domestic Trade (28001) and Foreign Trade (25001) row are the household income dollars paid to employees that work in the Region but do not live in the Region, or in-commuters. This is referred to in IMPLAN as Commuter EC - the remaining portion of Employee Compensation (EC) once payroll taxes and foreign commuting are removed.
To get an estimate of the in-commuting rate for your region, add the Foreign Trade (25001) + the Domestic Trade (28001) row and divide by the total EC - Federal Government NonDefense (11001) - State and Local Govt Other Services (12001). Below is an example from Louisiana in 2019.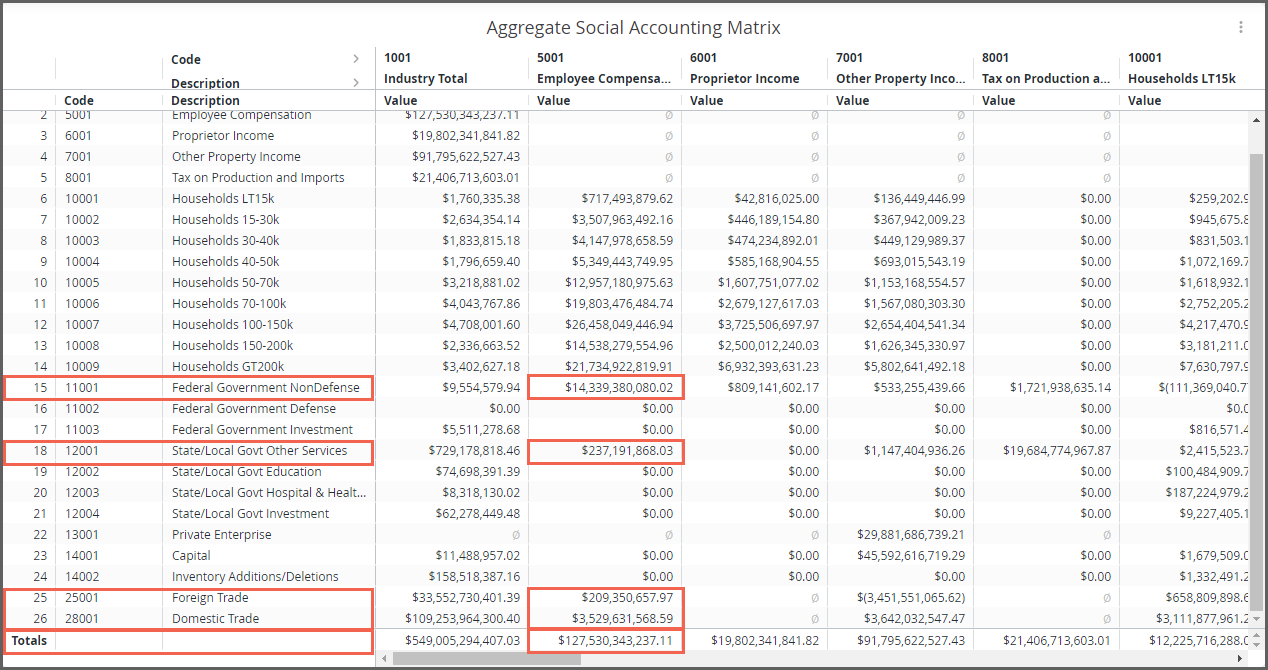 Foreign Trade + Domestic Trade
$209,350,657.97 + $3,529,631,568.59 = $3,738,982,226.56
Then divide that by the total EC - Federal Govt NonDefense - State/Local Govt Other Services
$3,738,982,226.56 / ($127,530,343,237.11 - $14,339,380,080.02 - $237,91,868.03) = 3.31%
This is the in-commuting rate which you can calculate using the file Commuting Rate - Calculations by filling in the teal boxes.

ADJUSTING FOR KNOWN IN-COMMUTING RATE:
Adjusting for your known in-commuting rate is necessary when IMPLAN's in-commuting rate differs from yours, particularly when the difference is significant. The portion of EC earned in the Region by these in-commuters, according to the in-commuting rate, is treated as a leakage in IMPLAN. Because EC by definition occurs at the site of employment, EC earned by in-commuters is still considered Direct EC to the Region, but because it is earned by non-residents, this EC will not generate any Indirect or Induced Effect in the Region.
This is not the case for Proprietor Income in IMPLAN, as PI is always assumed to be local (no commuting rate applied). However, if you know that a portion of this Proprietor Income does in fact leak outside of the study Region, you can simply reduce your input value to account.
Now that you have your commuting rates, we can use one more table to adjust IMPLAN's estimated regional commuting rate to your known regional commuting rate. Remember, your known commuting rate needs to be the value of the compensation that leaves the region. It cannot include payroll taxes.
We have four variables:
MyEC = original, unmodified employee compensation
MyCR = your known commuting rate
SamCR = commuting rate reported in the SAM
NewEC = the EC value you want to use when running the analysis
So the formula is:
NewEC = MyEC* [ (1-MyCR) / (1-SamCR) ]
For our LA example, we see
NewEC = $5,000,000 * [ (1-0.00%) / (1-3.31%) ] = $5,171,175.64

This number, $5,171,175.64 is what you will run through your EC event. But you aren't quite done yet.
In this example, $5,171,175.64 was analyzed in an Industry Employee Compensation Event in Industry 52 - Construction of new power and communications structures. In the advanced fields, we will also zero out Proprietor Income because we only want to model Employee Compensation. This Event will be used only to get our Induced Effects. Because the commuting rate we are adjusting for would only change the Induced Effects, that is all we are truly interested in for this Event anyhow.
For the Direct and Indirect Effects, we are going to need a second Event. The only value we know is the $5M in EC, so we will run another Industry Employee Compensation Event in Industry 52. The Event Value will be the $5M, because that is the known Employee Compensation that we are trying to model through Industry 52. However, if we had any additional information such as Output or Employment, we can also utilize the advanced fields to input those values. In our example, we just know that we don't want to estimate any additional Proprietor Income so we will zero that out. Note that our Group Dollar Year is 2022, and the Data Year is 2019.
Once you have run the two Events and navigated to the Results screen (viewing in 2022 dollars), first filter on Event 1. Then, you can copy and paste those values from the summary economic indicators table into the template for Event 1. Repeat this process for the second Event, pasting the results into the template to account for the Direct and Indirect Effects. The third set of summary economic indicators will be those that you utilize for any reporting, as they are adjusted to account for a decrease in commuting rate from 3.55% to 0%.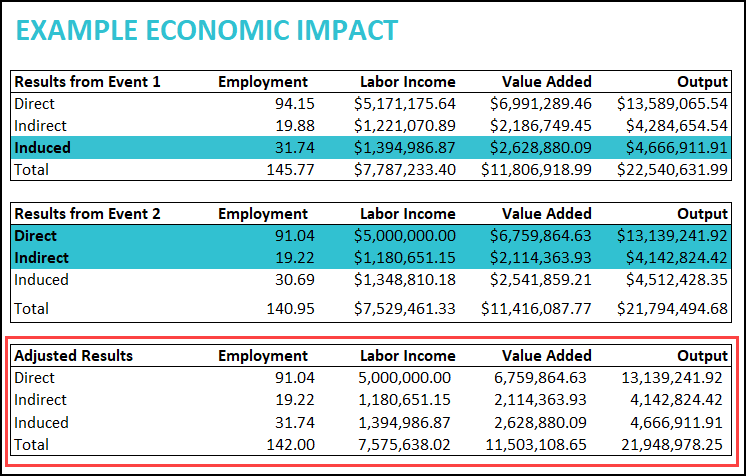 RESOURCES:
How Commuter Employee Compensation is Estimated
Updated May 6, 2022