INTRODUCTION
Commodity Output Events are most appropriate to use when an analyst knows there is a change in Commodity demand or production but does not know which Industries or Institutions will meet that demand. A Commodity is a product or service which may be produced by one or more Industries or Institutions.
Event Type

Commodity Output Events

Event Use

Analyzing change in the sale of a Commodity

Event Specification

"WHO"

Commodity 3001-3546 experiencing change in demand/production

Event Value

"WHAT"

Commodity Output
COMMODITY EVENTS
IMPLAN can be accessed via app.IMPLAN.com. Once you are logged in, you will be directed to the IMPLAN dashboard. From the dashboard you can navigate to the Regions, Impacts, or Projects screen.

Once you have chosen your Region and named your new Project, you will be directed to the Impacts screen. From here, click on Add New Event to create a Commodity Event. In this set of examples, 2018 Nevada data is utilized.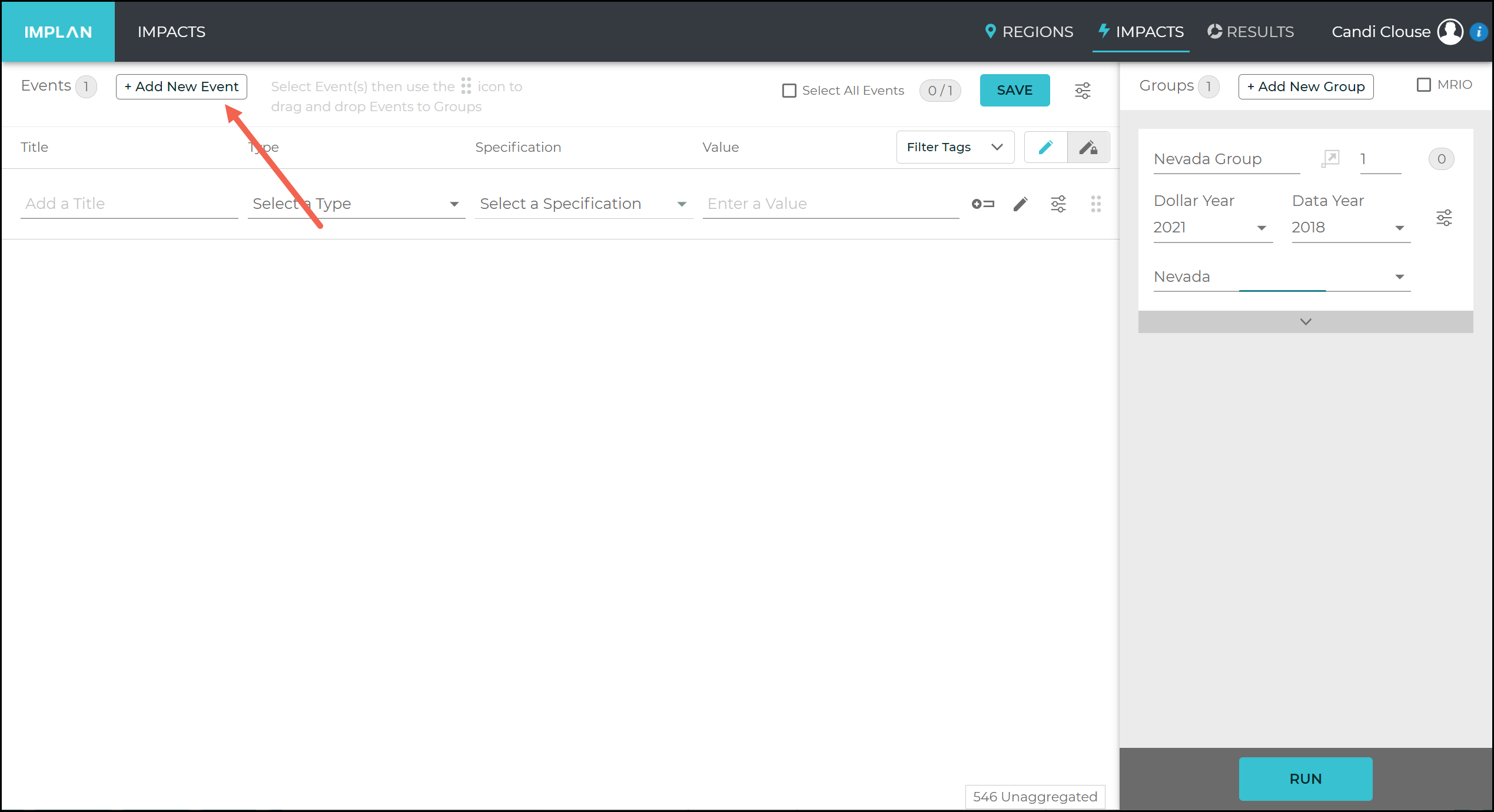 Commodity Output represents the total value of production of that product or service, regardless of the Industry or Institution that produced it. Remember that an Industry or Institution can make more than one Commodity and a Commodity can be produced by more than one Industry or Institution.
An easy example to understand is when dealing with electricity. If we know there will be new demand of $1M in electricity, we likely do not know what Industry will be producing it. We can examine who is producing this Commodity in Nevada by navigating to the Regions Screen and heading to
Region Details
> Social Accounts
> Balance Sheets
> Commodity Balance Sheet
> Industry - Institutional Production
> Filter for Commodity 3039 - Electricity
We can see that there are actually seven Industries that produce electricity in Nevada. The Market Share in the table below tells us the portion of the supply of that Commodity that is coming from each source.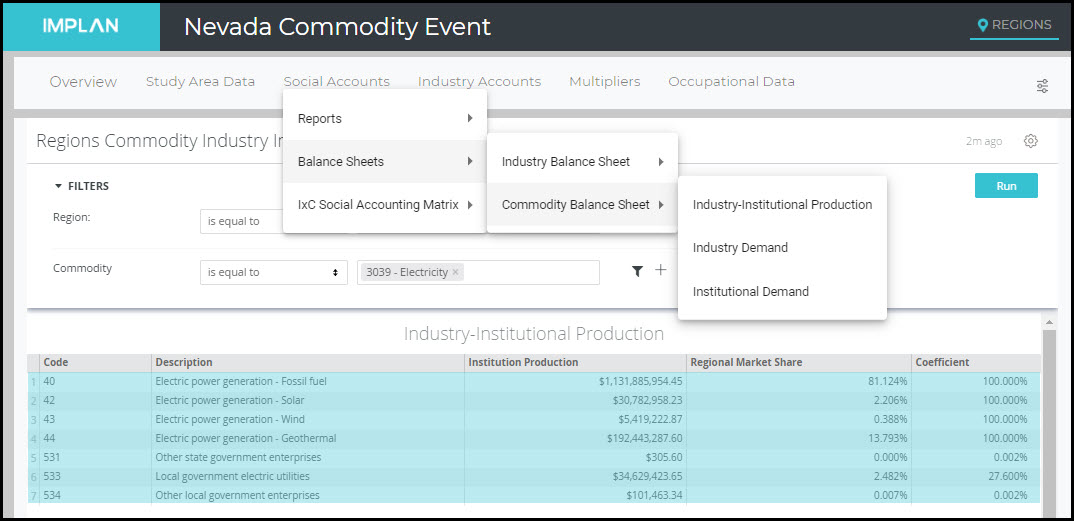 We can then navigate to our Impacts screen and enter a Commodity Output Event with the Specification of Commodity 3039 - Electricity, for $1,000,000.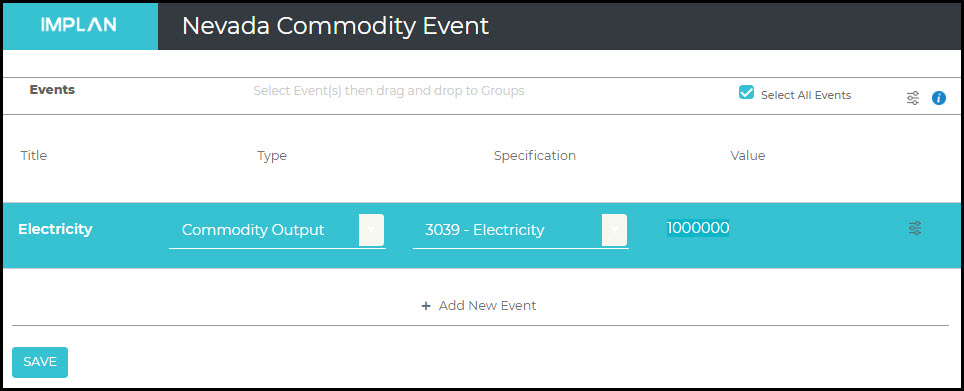 Now that you have your Events, ensure that all are highlighted in teal by clicking on them individually or checking Select All Events at the top of the screen. Now the Events can be dragged into your Group on the right.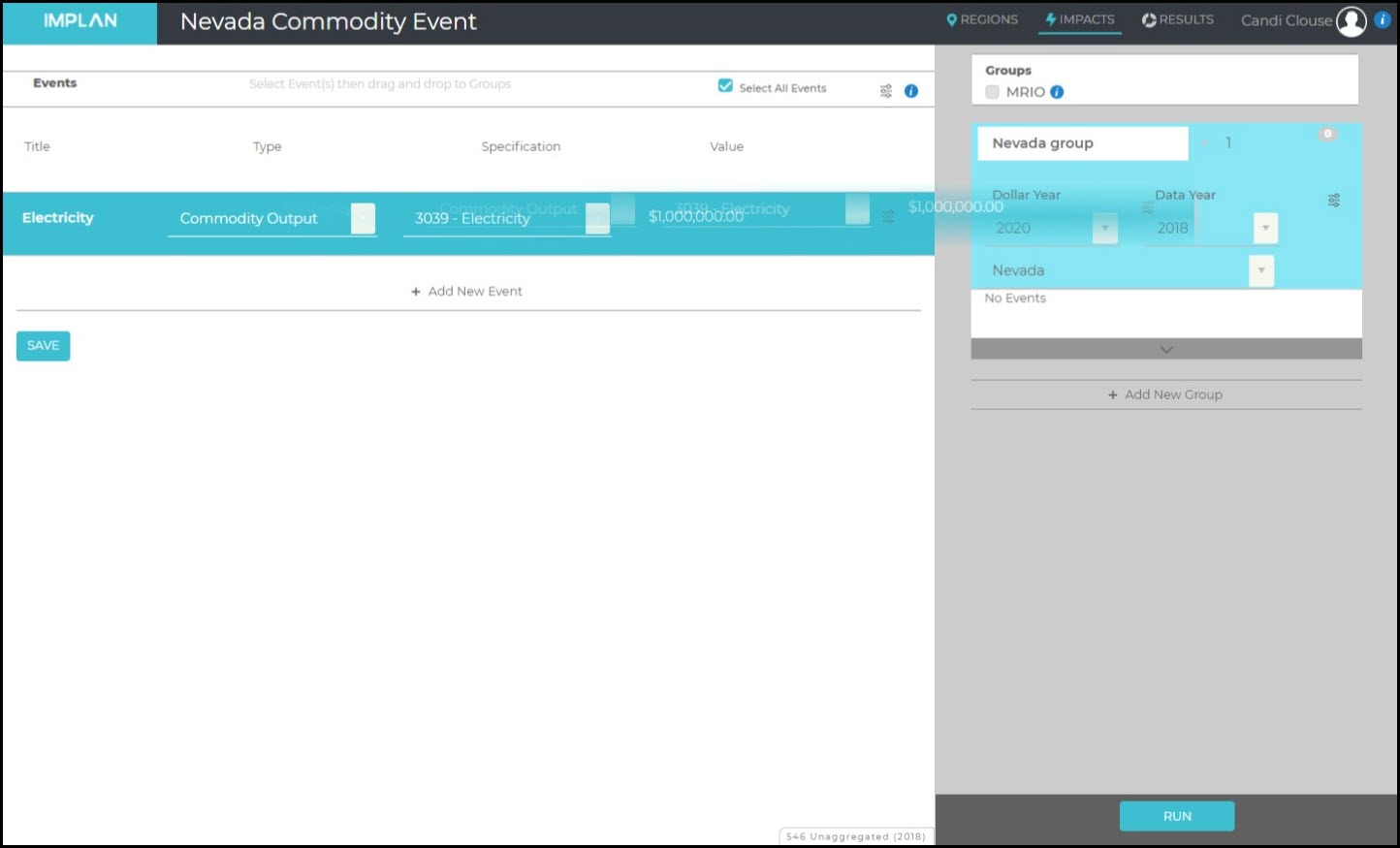 You will know when the Events have populated in the Group when the number in the upper right of the Group box equals the number of Events.


Now click Run in the bottom right of the Impacts Screen.
Our Results show us that the purchase of $1,000,000 of electricity yields a Direct Output of $999,940.21. What happened to the $59.79?

The analysis was run with a Dollar Year of 2020 and Data Year 2018. Then the Results are viewed in Dollar Year 2020. Commodity Events are adjusted using Commodity deflators/inflators and then those dollars are deflated/inflated on the Results using Industry deflators/inflators. The $59.79 difference in the Results you see in the Direct Effect is due to the differences between Commodity and Industry deflators/inflators. More information on this is in the article Why don't my Direct Effects match my Direct inputs?
Click into the Output tab to see the $999,940.21 of Direct Output by Industry. Here we'll see each of the seven Industry producers of electricity in Nevada are Directly impacted by the electricity Commodity Event.
COMMODITY DOES NOT EXIST
If an Industry or a Commodity does not exist within the regions you are analyzing, a warning will now appear to inform you of each Event and Group once you select Run. If you choose to continue without making changes, those Events will not generate any results. Learn more about Adding an Industry to your Region.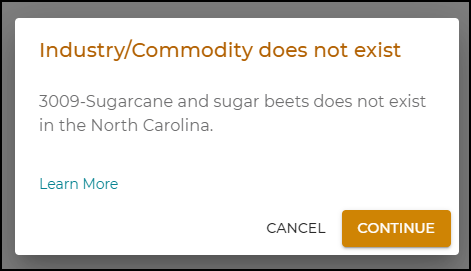 RELATED ARTICLES
Running Your First New Business Impact
Why don't my Direct Effects match my Direct inputs?
Written July 9, 2020
Updated March 3, 2021