INTRODUCTION
Industry Spending Patterns include all Intermediate Inputs for a given Industry. Industry Spending Pattern Events are most appropriate to use when an analyst has the data required to build a customized Spending Pattern which reflects specific purchases by an Industry or when the ratios in an Industry's Leontief Production Function must be modified to a degree beyond that which is achievable by simply customizing an Industry Event.
Event Type

Industry Spending Patterns

Event Use

Analyzing a change in Intermediate Inputs

Event Specification

"WHO"

Industry 1-546 making purchases of Intermediate Inputs

Event Value

"WHAT"

Intermediate Inputs or Output (per Advanced Menu)

INDUSTRY SPENDING PATTERN EVENTS
IMPLAN can be accessed via app.IMPLAN.com. Once you are logged in, you will be directed to the IMPLAN dashboard. From the dashboard you can navigate to the Regions, Impacts, or Projects screen.

Once you have chosen your Region and named your new Project, you will be directed to the Impacts screen. From here, click on Add New Event to create an Industry Spending Pattern Event. In this set of examples, 2018 Nevada data is utilized.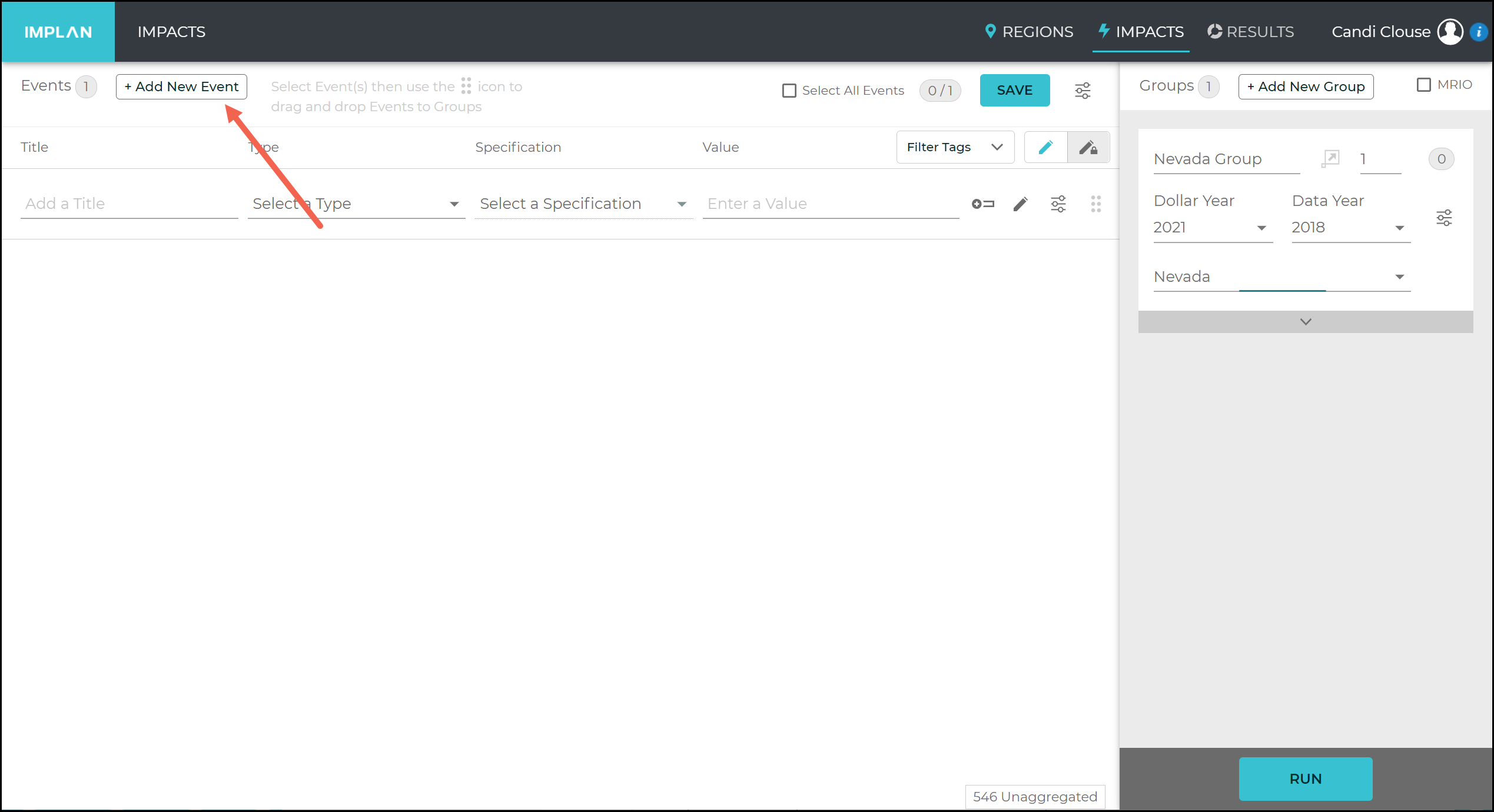 At the most basic level, Industry Spending Pattern Events can be used to examine the economic impact of only the Intermediate Inputs of an Industry. Intermediate Inputs are the purchases of non-durable goods and services that are used to produce other goods and services rather than for final consumption. Industry Spending Patterns can be edited through the Advanced Menu. Learn more in the article: Editing Industry Spending Pattern Events.
In this example, we want to look at only the spending on Intermediate Inputs by casinos. We will give our new Event a Title, select the Type as Industry Spending Pattern, the Specification is 503 - Gambling industries (except casino hotels), and the Value is $1,000,000. Check out the article Picking an Industry for assistance in choosing the appropriate IMPLAN Industry.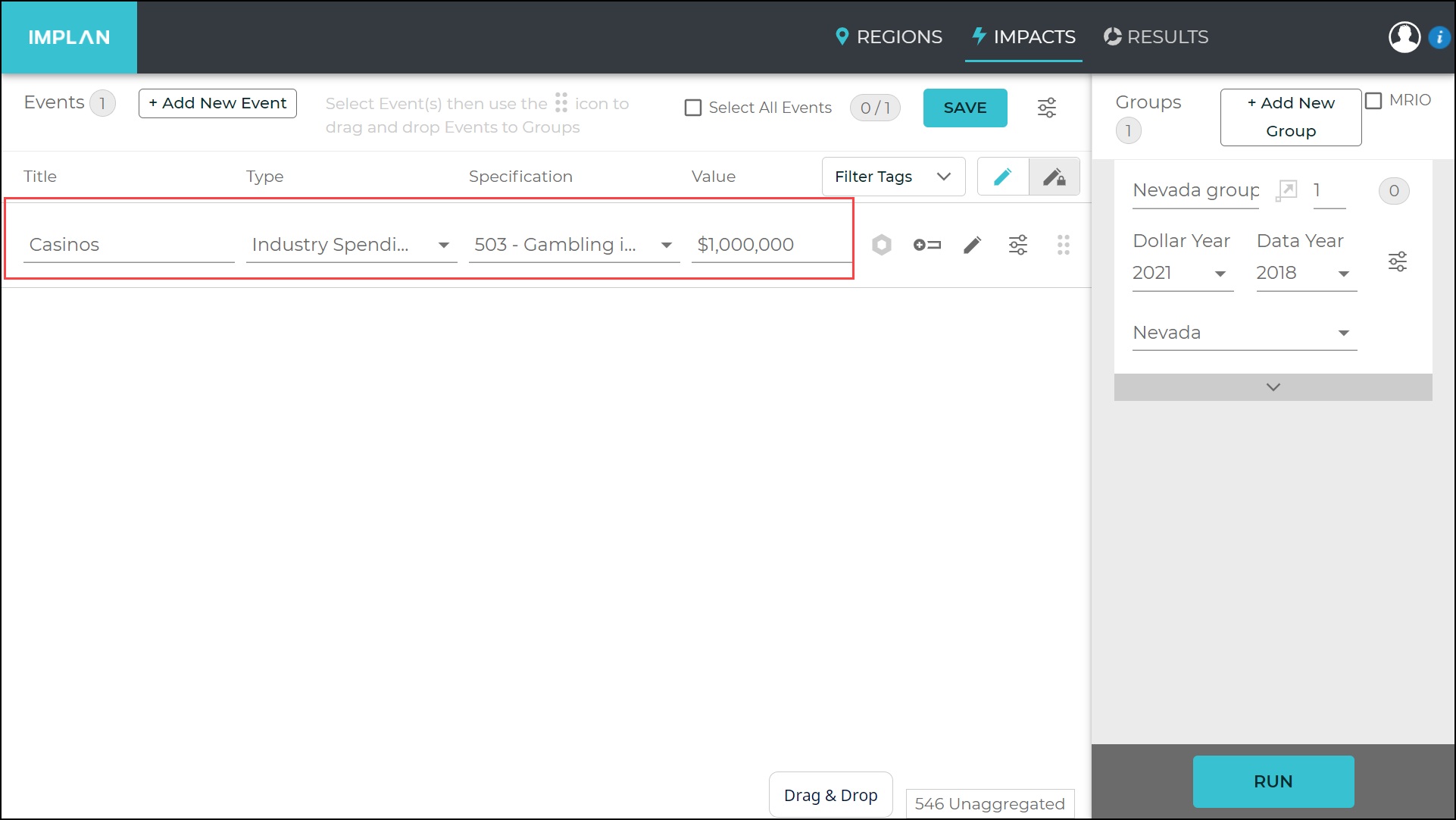 Now that you have your Event, ensure that it is highlighted in teal by clicking on the Event or checking Select All Events at the top of the screen. Now the Event can be dragged into your Group on the right.
You will know when the Events have populated in the Group when the number in the upper right of the Group box equals the number of Events.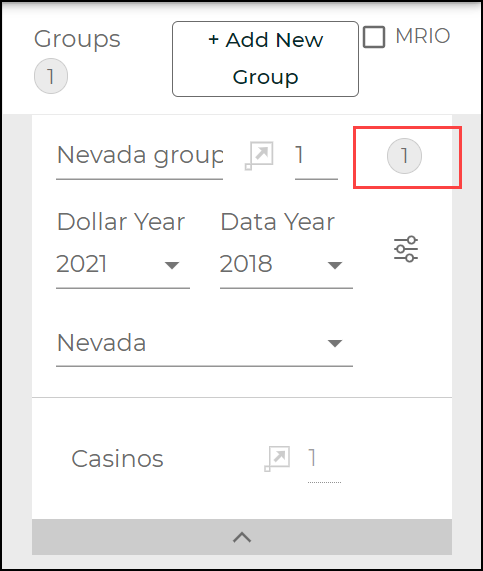 Now click Run in the bottom right of the Impacts Screen.
The first thing you will notice is that there are no Direct Effects. Industry Spending Pattern Events only affect spending on Intermediate Inputs, so there will only be Indirect and Induced Effects. Learn more in the article Explaining Event Types.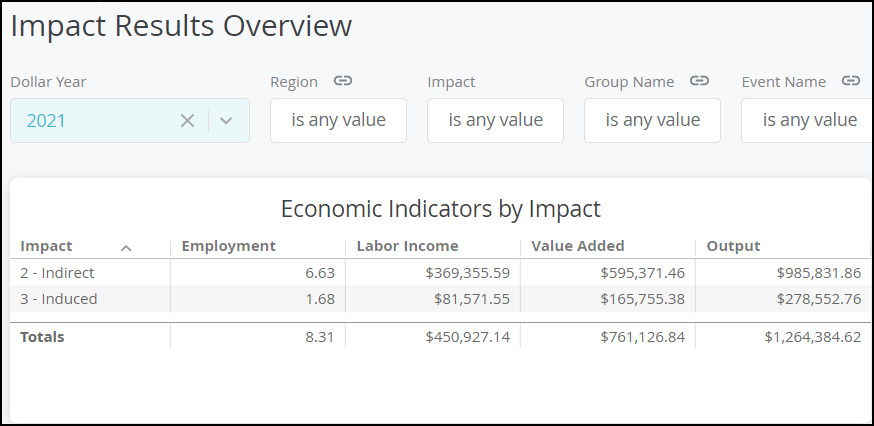 Industry Spending Pattern Events are also found with the Industry Impact Analysis (detailed) Event Type. As part of this Event, you can edit the Spending Pattern along with entering Employment (Wage & Salary and/or Proprietor), Labor Income (Employee Compensation and/or Proprietor Income), Taxes on Production & Imports, Other Property Income, and/or Output.
RELATED ARTICLES
ABP: Introduction to Analysis-By-Parts
Editing Industry Spending Pattern Events
Understanding Intermediate Inputs (II)
Written July 17, 2020
Updated January 20, 2022