INTRODUCTION
Thinking of purchasing IMPLAN or already have a subscription you want to renew? IMPLAN has multiple ways that you can pay for your subscription at your convenience! At IMPLAN, we accept credit cards, EFT, checks, ACH, and wire. If you have any questions, please email support@implan.com for assistance.
HOW TO PAY FOR IMPLAN
IMPLAN

utilizes electronic invoicing for credit card payments. An invoice link can be emailed for any purchase and can also be downloaded as a PDF.
If you work in a procurement department or are a Purchasing Agent for a company and are looking for an invoice link, please email

sales@implan.com

or

support@implan.com

with the Invoice Number and we will reply back with the link to pay via credit card.
We accept all major credit cards (Visa, Mastercard, AMEX, and Discover). Our processing system verifies the transaction with the bank based on the billing ZIP Code.

ACH, EFT & Wire information can be sent upon request.
IMPLAN is not responsible for any fees associated with bank transfers.

A fee will incur for any International Wire Transfers .
Checks can be made out to IMPLAN Group LLC and mailed to our office.
16905 Northcross Drive, Ste 120, Huntersville, NC 28078
Please make sure to add the Invoice Number to any payment references on the check, ACH, EFT, or wire remittance.

Sales Tax is based on the location of the Primary User Data is delivered to. Not all States are taxed on our products. We use the Avalara/AvaTax system to calculate and collect Sales Tax. Tax will be included on your Invoice.
Tax exempt? Please provide the organization's Sales & Use Tax Exempt Certificate by emailing a copy to

accounting@implan.com

.
CREDIT CARD
PAYMENTS
To pay with a credit card, select the Pay button in the top, right-hand corner of the page:
Enter credit card information, check the Authorize box, and click Pay: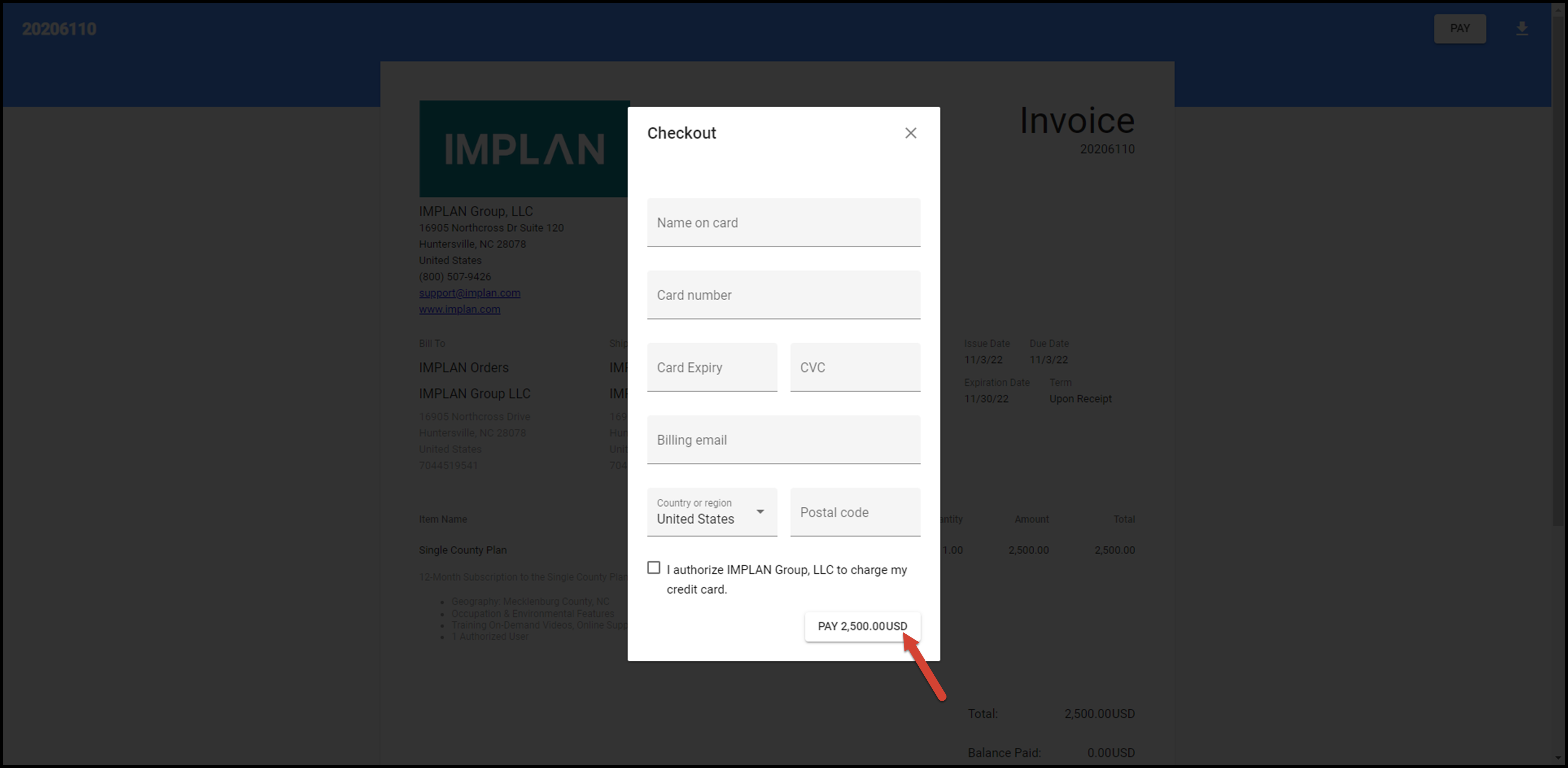 To download a PDF copy of the Invoice, click on the "download" icon:
Please include the invoice number on any payment remittance: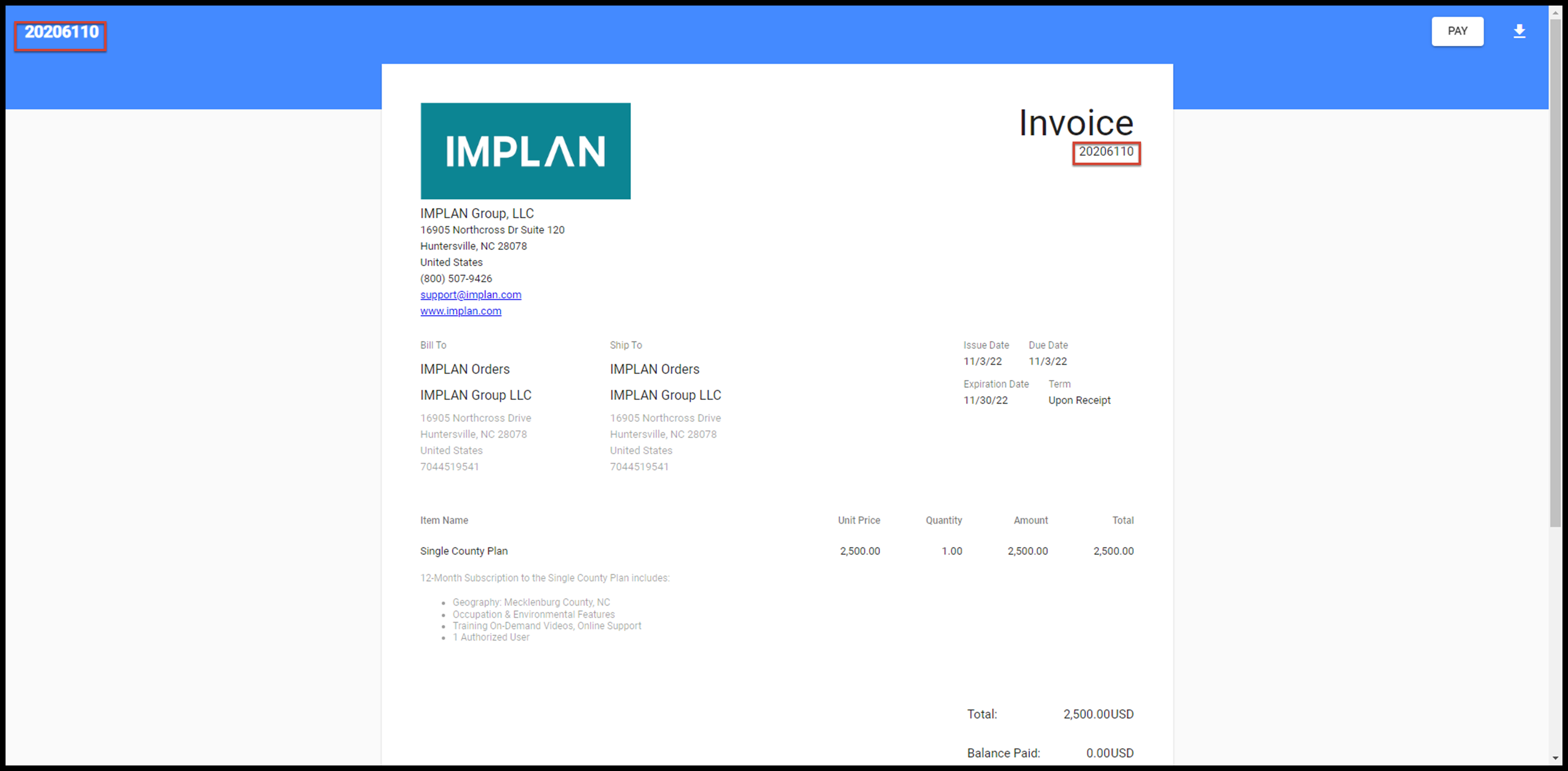 WHAT HAPPENS IF MY CARD IS DECLINED?
Call your bank/card issuer and verify the Zip Code associated with the card.
The system will decline if the Zip Code you enter on the payment portal does not match the zip code associated with the card.

The Zip Code listed on the Invoice does not need to match the Zip Code for the Credit Card being used (or the Zip Code you enter on the payment screen).
Check to make sure fraud settings are allowing the payment to clear.
The system will decline if your bank requires a full address or no fraud prevention at all.

IMPLAN only authorizes with a Zip Code.
WHAT HAPPENS AFTER PAYMENT?
A receipt will be emailed to the Primary or Billing Contact listed on the Invoice.

Access to any data in the IMPLAN platform will be added to your account within approximately one hour of your purchase (during IMPLAN's business hours).
IMPLAN Business Hours: Monday through Thursday, 8am - 5pm Eastern, Friday 8am - 3pm Eastern.

The primary user on the account will receive a confirmation email that the data has been granted to the account.
Any

services

purchased will be processed and delivered by your IMPLAN Account Representative based on complexity and requirements.
SOLE SOURCE
IMPLAN is a Sole Source Provider of its Software and Data. If you need a Sole Source Provider letter, please email support@implan.com with your Organization Name and order/invoice number.
RESOURCES