INTRODUCTION
There are 5 U.S. Territories: American Samoa (AS), Guam (GU), the Commonwealth of Northern Mariana Islands (MP), Puerto Rico (PR), and the U.S. Virgin Islands (VI). However, due to a change in disclosure policy at the U.S. Census Bureau1, IMPLAN will no longer be generating data sets for AS, GU, or MP. Beginning with the 2020 data, IMPLAN will only be generating data sets for PR and VI, the only two Territories for which the Bureau of Labor Statistics (BLS) provides Census of Employment and Wages (CEW) data. The Territory data are available in the online platform only. Because the U.S. Bureau of Economic Analysis (BEA) releases its GDP data for the Territories on a staggered schedule, the IMPLAN data for the Territories will also be made available on a staggered basis.
DATA SOURCES
Data sets for Territories are not nearly as comprehensive or timely compared to the U.S. data. Nor are Territories included in the U.S. NIPA accounts, so there are fewer overall control totals than there are for the U.S. states and counties.
Current BLS CEW data are available for PR and VI and represent the main source of data on wage and salary employment and income. For AS, MP, and GU, we had used the disclosed CBP data to give us employment estimates for detailed sectors. As previously noted, we no longer use the CBP data and thus no longer produce data sets for AS, GU, or MP.
For the farm sectors, we rely on the Census of Agriculture, which covers the 5 Territories. The 5-year Census for outlying areas is published several years after the corresponding Census for the U.S.
Military employment comes from the Department of Defense.
The U.S. Census Bureau provides data on population and household counts for each of the 5 Territories.
The Bureau of Economic Analysis (BEA) provides current Gross Domestic Product (GDP) and Gross Domestic Income (GDI) totals and one-year-lagged components of GDI (Employee Compensation, Gross Operating Surplus, and Taxes on Production and Imports Net of Subsidies) for all Territories. The BEA also provides current data on government spending, household spending, private fixed investment, net changes in inventory, and foreign imports and exports for each of the 5 Territories.
Some data on Wage & Salary Employment from GU's Department of Labor had been used for GU.
Ratios from the latest Territory Economic Census and from the U.S. data are used in various stages to fill in data gaps and project lagged data.
Please note that, due to data limitations, there is only one household income group in the Territory data. and the tax impact report does will not display separate results for State Government vs. Local Government, nor the sub-components of Local Government. To learn more about the U.S. Territory data and pricing, please contact sales@implan.com.
FINDING TERRITORY DATA
The territory data is searchable from the Regions screen. Simply being typing the name of the territory of interest and it will populate.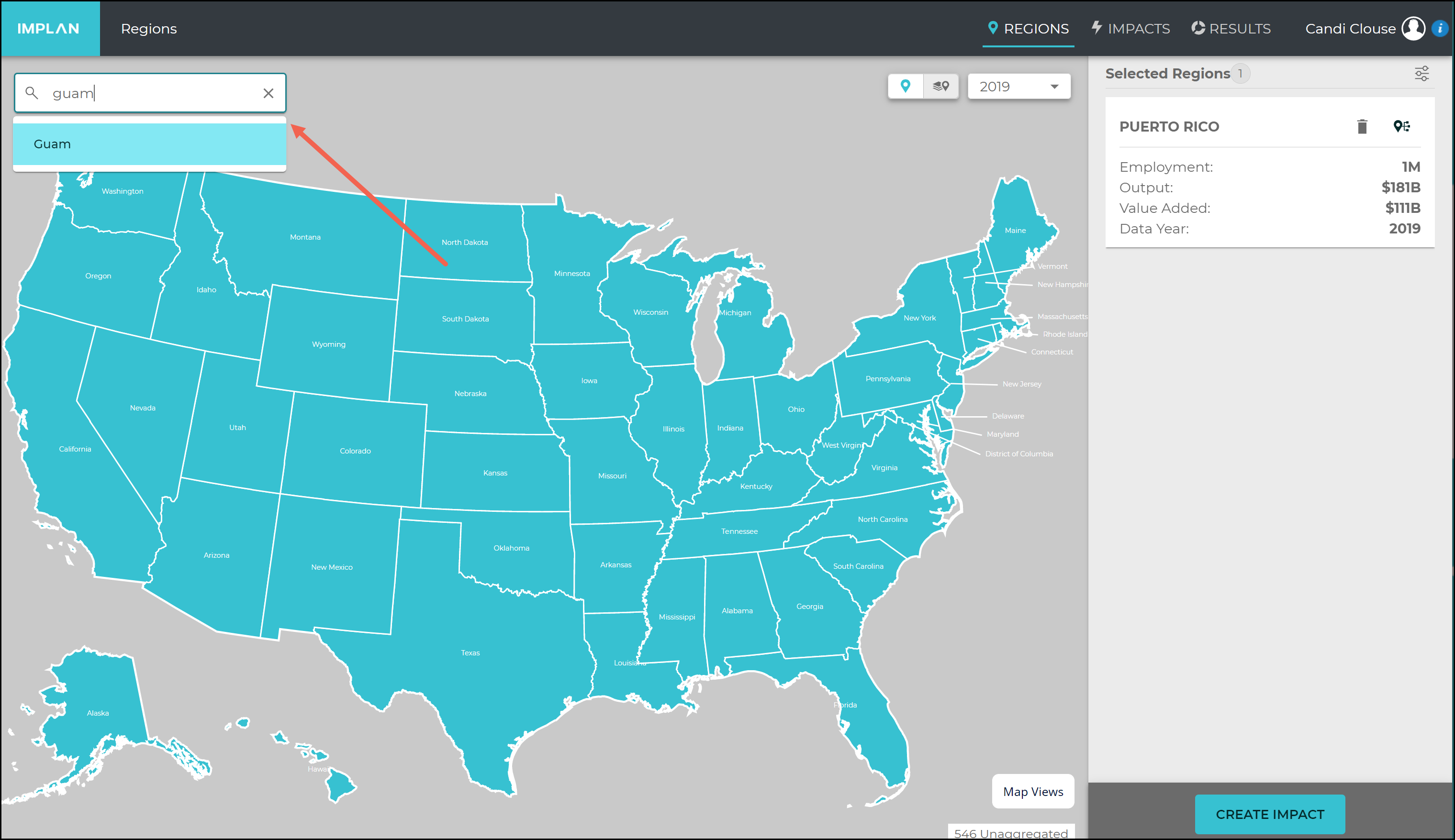 FOOTNOTES
1 The Census Bureau has adopted a new policy under which they no longer provide establishment counts for cases in which the establishment count is less than three, as the number of establishments is now considered sensitive. This new decision to omit from their tables all records with fewer than three establishments was a new policy that was set in place to protect the confidentiality of businesses.
This new practice makes a missing record of 1-2 establishments (an existing industry) indistinguishable from a missing record of zero establishments (a non-existent industry). The omission of records with less than three establishments, in addition to making it impossible to estimate their employment and income values, also makes it impossible for us to obtain high quality estimates for the non-disclosed records with three or more establishments, since we are not able to roll up across NAICS levels without having values for sibling sectors.
RELATED ARTICLES
2019 IMPLAN U.S. Territories Data Release Notes
Updated April 4, 2022