INTRODUCTION
IMPLAN defines the total annual production value of each Industry or Commodity as Output. Output is in producer prices and includes net of inventory changes. Output is revenue except for in the case of retail sales, or if there are additions/deletions to inventory. To understand further how the definition of Output creates some nuances in certain Industries, read the full definition here.
Since Output is the total production value of an Industry, it includes all components of production value or Output for a given Industry. This is referred to as the Leontief Production Function.

Intermediate Inputs + Employee Compensation + Taxes on Production and Imports, Less subsides makes up the operating expenses for a given Industry. Other Property Income + Proprietor Income makes up gross operating surplus.
DETAILS
Output represents the value of industry production. In IMPLAN these are annual production estimates for the year of the data set and are in producer prices. For manufacturers this would be sales plus/minus change in inventory. For service sectors production = sales. For Retail and Wholesale trade, Output = gross margin (or Marginal Revenue) and not gross sales (Total Revenue), which includes the value of the goods sold.
For Industries that do not hold inventory, Output equals revenues (sales). For Industries that do hold inventory, Output equals revenues plus any net change in inventory (additions to inventory less sales out of inventory); for these industries, it is possible for a year's sales to exceed that year's value of production, if some of those sales came out of inventory (a previous year's production); in I-O models, what matters is the value of production that occurred in a year, since production is what drives the purchases of inputs. Sales of items that have been sitting in inventory do not generate Indirect and Induced impacts this year since they were produced in a previous year; thus, we don't want to count them as part of this year's output, else we'd overstate the indirect and induced impacts.
WHERE TO FIND IT IN IMPLAN
You can find Output throughout IMPLAN. At the basic level, you will find it on the Regions screen, be able to input it on the Impacts screen, and see it on the Results screen.
ON THE REGIONS SCREEN
Navigate to Region Details
> Overview tab
> Industries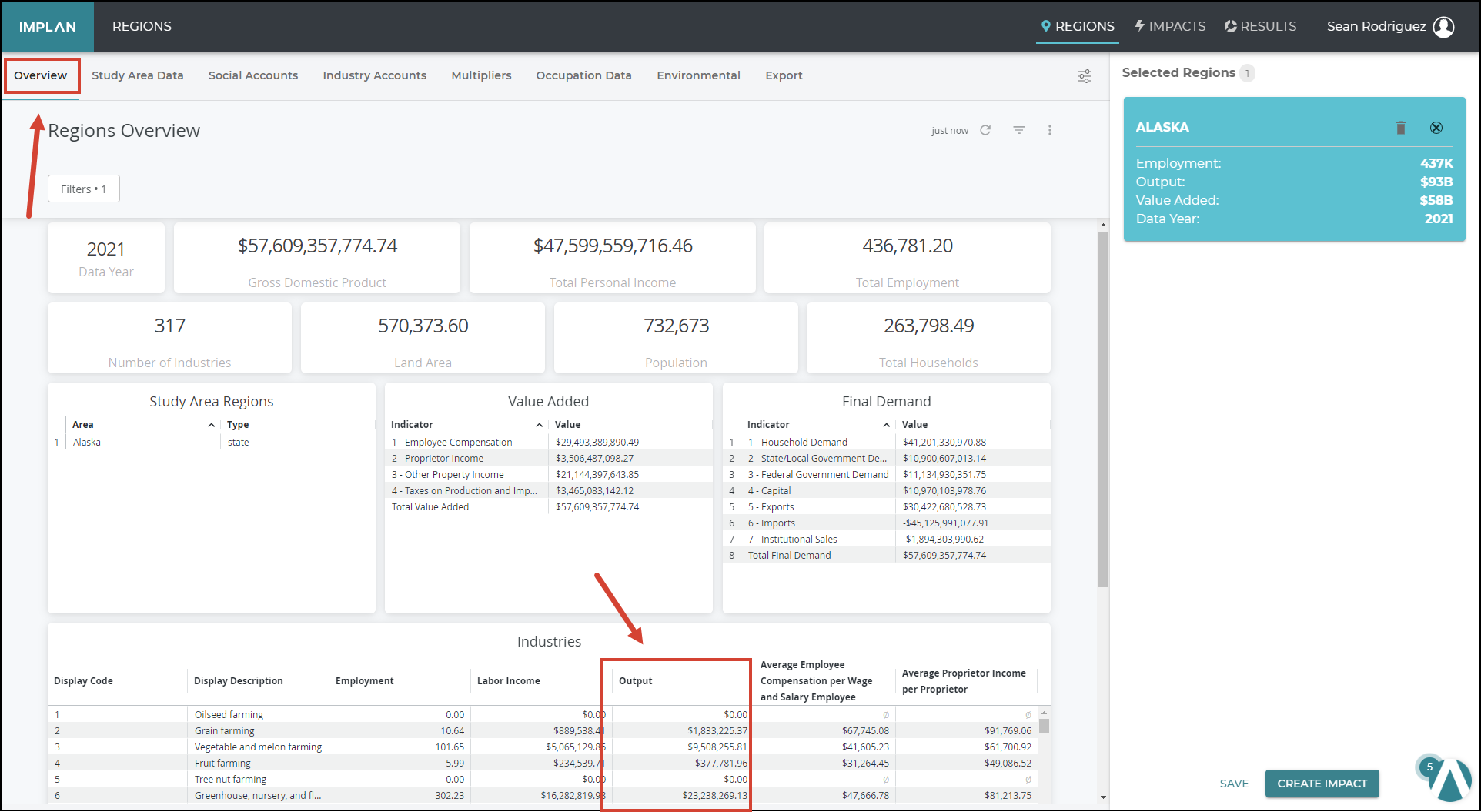 ON THE IMPACTS SCREEN
On the Impacts screen, you can model Industry Output in any of the IMPLAN Industries.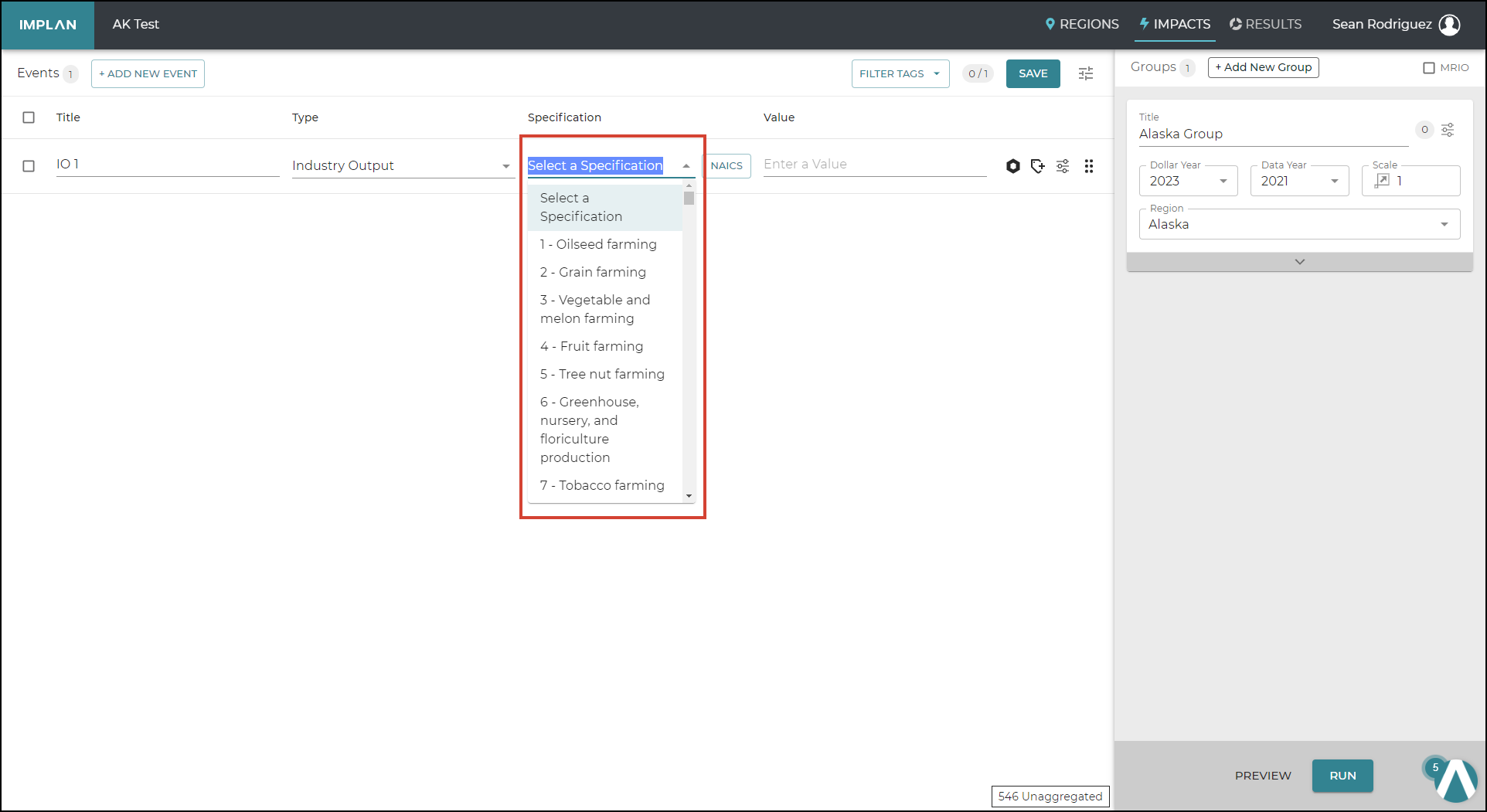 ON THE RESULTS SCREEN
The Summary Results screen will show you an overview of Output. You can also dig into the details by clicking on the Output tab to see the complete list of impacted Industries by Output.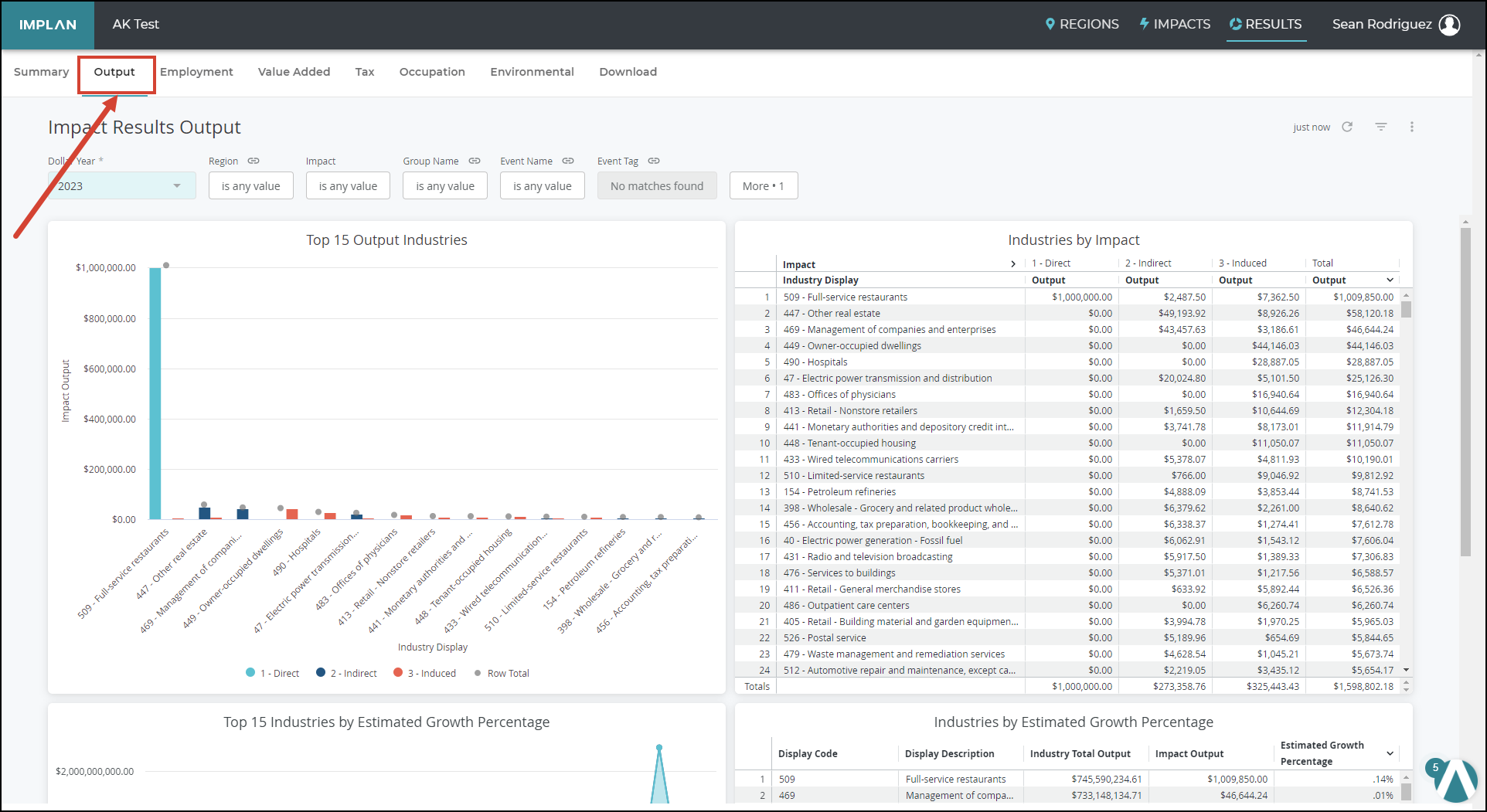 HOW IS IT CALCULATED?
IMPLAN defines Output as:

The components of Output can also be summarized as:

Therefore when reporting data in Region Details > Industry Summary or in your IMPLAN Results never sum together Labor Income, Value Added, or Output. If you were to sum these three values, you'd counting Value Added twice and Labor Income three times!
When reporting the value of entire economy or an entire impact keep in mind some key considerations around why reporting Value Added may be appropriate found in Output, Value Added, & Double-Counting.
RELATED ARTICLES
Output - Differences by Industry
Written September 17, 2019
Updated February 26, 2020