INTRODUCTION
IMPLAN is going green! We are excited to announce that our Environmental data is now available in the IMPLAN application. New Environmental indicators are available within the tool from the Region Details of a selected Region and in the Results of your Project.
REGION DETAILS
From the Region Details, Environmental Data reflective of the Region and Data Year is available by Environment Satellite (our general environmental groupings, listed below). This data is derived from the composition of Industries in the Region and EPA data on emissions by Industry.
Environment Satellites (and the categories they fall into) are listed below:
Criteria Pollutants (Air)

Greenhouse Gases (Air)

Land Use (Resource)

Mineral Use (Resource)

Nitrogen and Phosphorus Release to Water (Water)

Pesticide Emissions (Air, Soil & Water)

Toxic Chemical Releases (Air, Soil & Water)

Water Use (Water & Resource)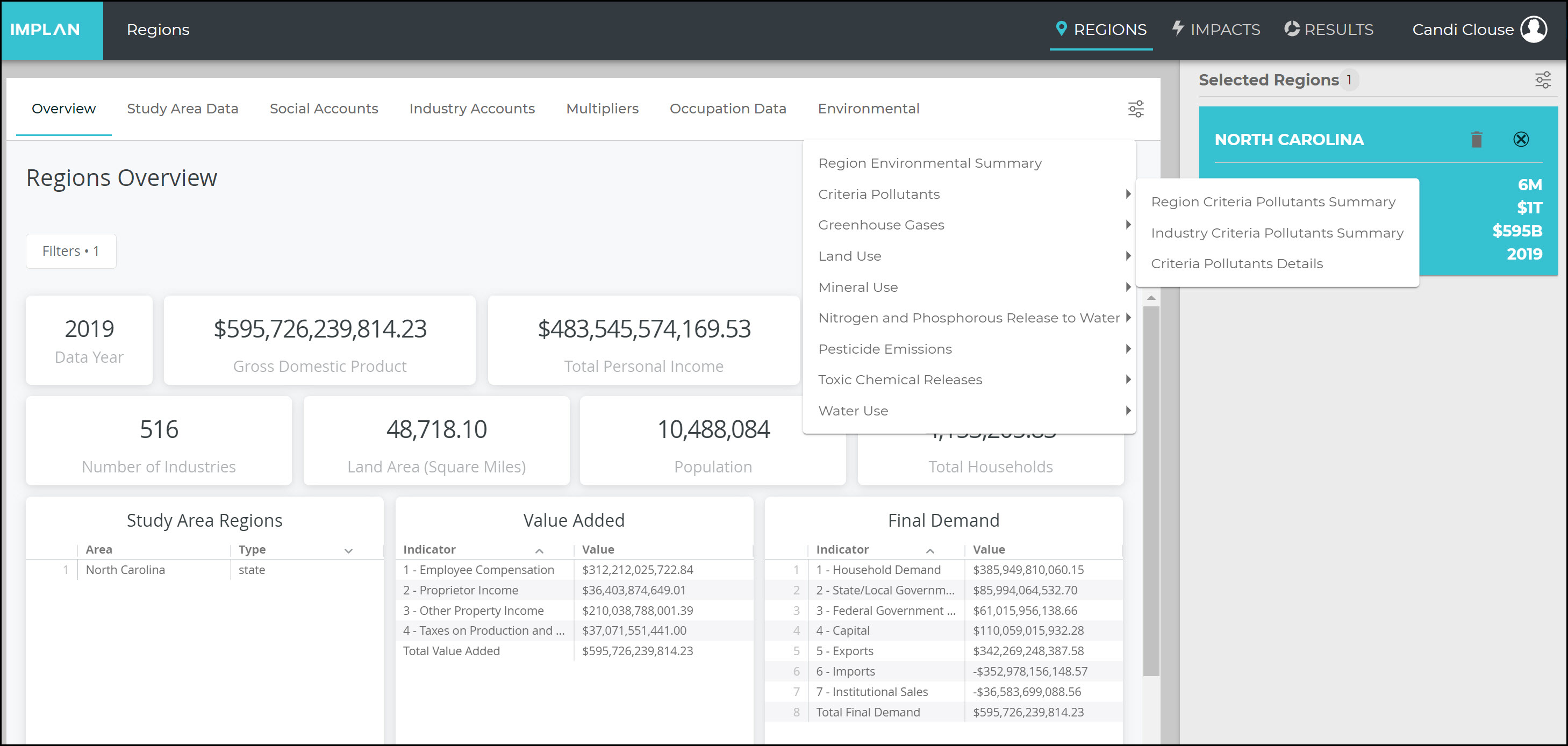 The Region Environmental Summary shows columns for each of the eight satellite account totals for each of the 546 IMPLAN Industries. The next eight options are for each of the satellite accounts including Criteria Pollutants, Greenhouse Gases, etc. Each satellite has a table for Region Summary, Industry Summary, and Details.
Region Summary shows the detailed Environmental names and tags with their values in the region (for example, within the Greenhouse Gases (GHGs) table, there is a row from Environment Name: carbon dioxide; Environment Tag: co2; along with a row for each of the other types of GHGs). For Environment Satellites containing Environment names/tags that fall into multiple categories (indicated in the bulleted list above), there is a column included for Environment Category.
Industry Summary shows the total for the chosen satellite account, by each of the 546 IMPLAN Industries. The Details table shows you the details for each name/tag in criteria pollutants for each of the 546 IMPLAN Industries.
All Unit Values are measures of mass in kilograms (kg) except for Land Use unit values and Water Use unit values. Land Use measures are in square meters per year (m2*a), and Water Use measures are volume in cubic meters (m3). The Environment Unit column indicates the unit of measure for the Unit Value.
RESULTS
IMPLAN produces Environmental Results based on the Output Effects in each Industry from an analysis and the ratio of Environment Unit Value per dollar of Output in each Industry. You will see the tables in the Results are the same format as those found in Region Details.


These tables further break out the Total Unit Value by Direct, Indirect and Induced.
Environmental Results can be filtered by Region, Impact, Group Name, Event Name, Environment Category, Environment Name, Environment Satellite (another way to switch between tables), Environment Tag, and by Industry!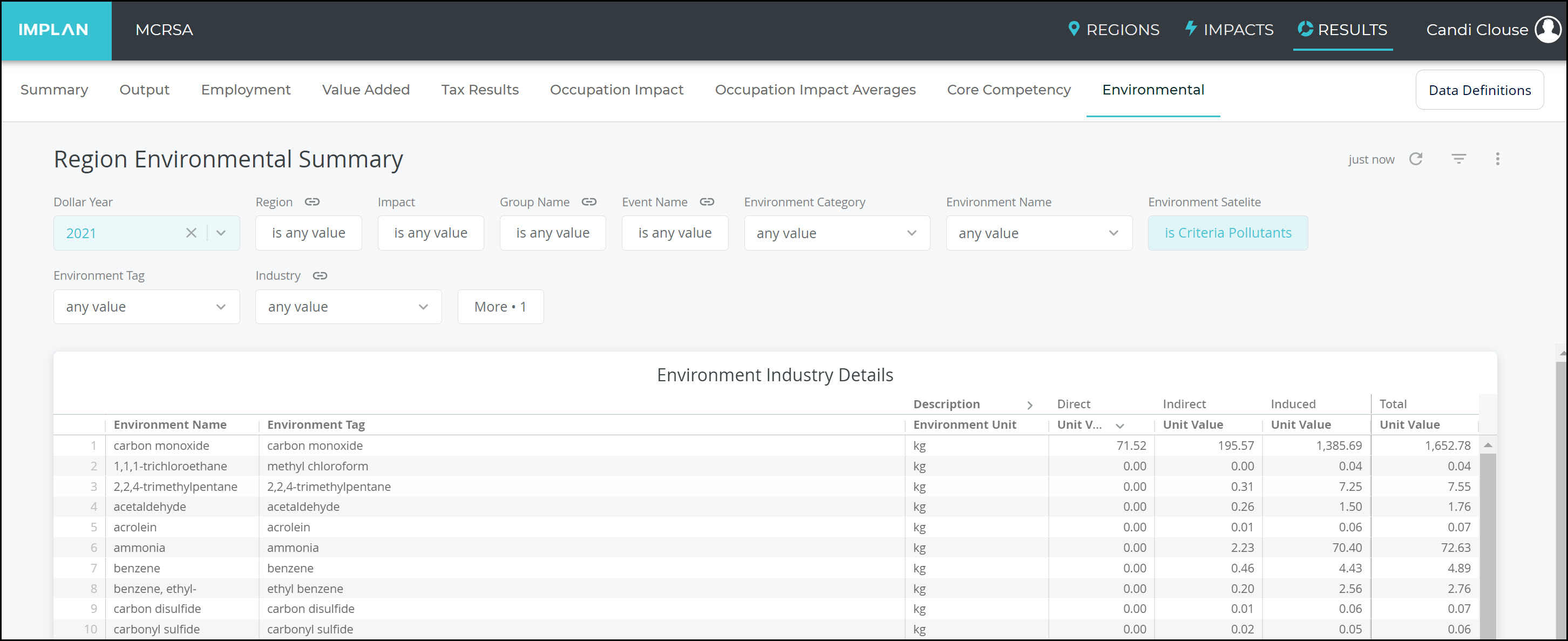 RESOURCES
Ingwersen, W. An Introduction to USEEIO. The Strategic Analysis team for the Advanced Manufacturing Office, Cincinnati, OH, December 06, 2018.
USEEIO v1.1 Description of Satellite Table Updates
US EPA Office of Research and Development (ORD): USEEIOv1.1 - Satellite Tables. Updated January 18, 2020.
Yang, Y., W.W. Ingwersen, T.R. Hawins, M. Srocka, and D.E. Meyer, 2017. USEEIO: A new and transparent United States environmentally extended input-output model. Journal of Cleaner Production, 158: 308-318.

RELATED ARTICLES
Environmental Data from the Data Team
Environmental Data Dashboard & Explore
Written May 10, 2021
Updated June 23, 2021