INTRODUCTION
The Environmental Data in Region Details contains information about the Selected Region and Data Year. Check out all the information on the Where to Find Environmental Data in IMPLAN by reading all about our work with the EPA!
FINDING THE DATA
You can locate the Environmental Data by navigating to Region Details on the Regions screen. The Environmental Data has its own tab full of useful information.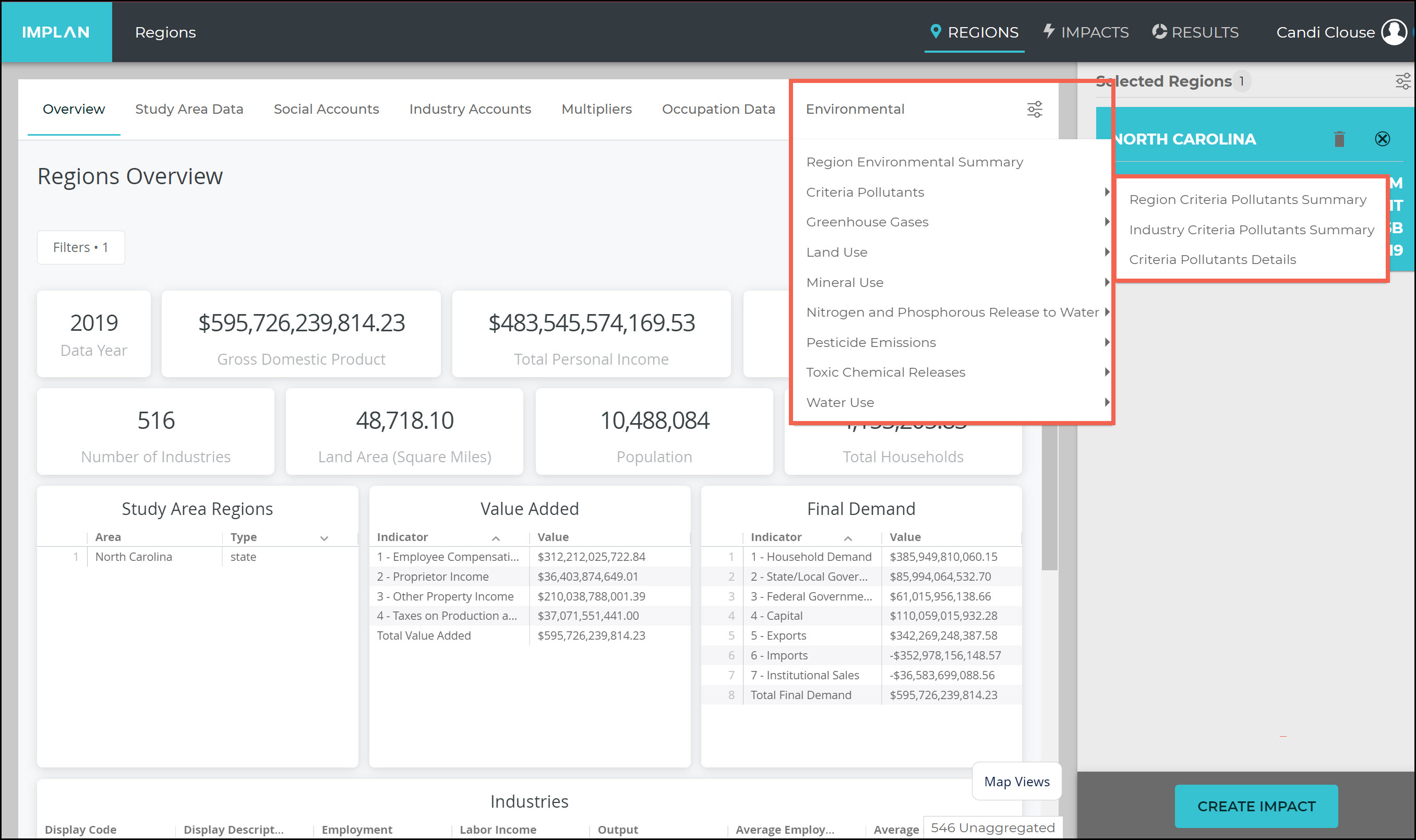 REGION ENVIRONMENTAL SUMMARY
This top table totals each of the eight satellite accounts of environmental pollutants by the 546 IMPLAN Industries. Environment Satellites (and the categories they fall into) are:
Criteria Pollutants (Air)

Greenhouse Gases (Air)

Land Use (Resource)

Mineral Use (Resource)

Nitrogen and Phosphorus Release to Water (Water)

Pesticide Emissions (Air, Soil & Water)

Toxic Chemical Releases (Air, Soil & Water)

Water Use (Water & Resource)
SATELLITE ACCOUNT DETAILS
There are three tables for each of the eight Satellite accounts. The Region (Greenhouse Gases)Summary, as an example, shows the detailed Environmental names and tags with their values in the region (within the Greenhouse Gases table, there is a row from Environment Name: carbon dioxide; Environment Tag: co2; along with a row for each of the other types of GHGs). For Environment Satellites containing Environment names/tags that fall into multiple categories (indicated in the bulleted list above), there is a column included for Environment Category.
The Industry (Greenhouse Gases) Summary table shows the total for the chosen satellite account (in this case Greenhouse Gas), by each of the 546 IMPLAN Industries. So you can dig into one of the satellites, as in this case the total Greenhouse Gases by each Industry.
The final table, Greenhouse Gases Detail, has, as you would expect, all the details. It shows you the particulars for each name/tag in criteria pollutants for each of the 546 IMPLAN Industries.
RELATED ARTICLES
Where to Find Environmental Data in IMPLAN
Written June 28, 2021