INTRODUCTION
Combining Regions in IMPLAN allows users to create Regions of grouped geographies to analyze impacts beyond a single geography. The great part is once a Combined Region is created, it will always be available for use in a project!
You can combine Regions in IMPLAN Cloud using the Map or List View. The Map View is the easiest method when you have only a few areas to combine. However, when combining multiple regions at a time, this process can be streamlined by using the Region List. This article will showcase all methods of combining regions, identify new features added to the Region List View, and ways to access previously Combined and Customized Regions.
COMBINING REGIONS FROM THE REGIONS MAP
You can create a custom Combined Region in IMPLAN with just a few simple clicks. Note, that only states or counties can be combined from the Map View; zip codes must be combined using the Region List View.
From the Map View on the Regions screen, select all of the Regions you want to combine. Click the Menu Button in the Selected Regions field and select Combine Region.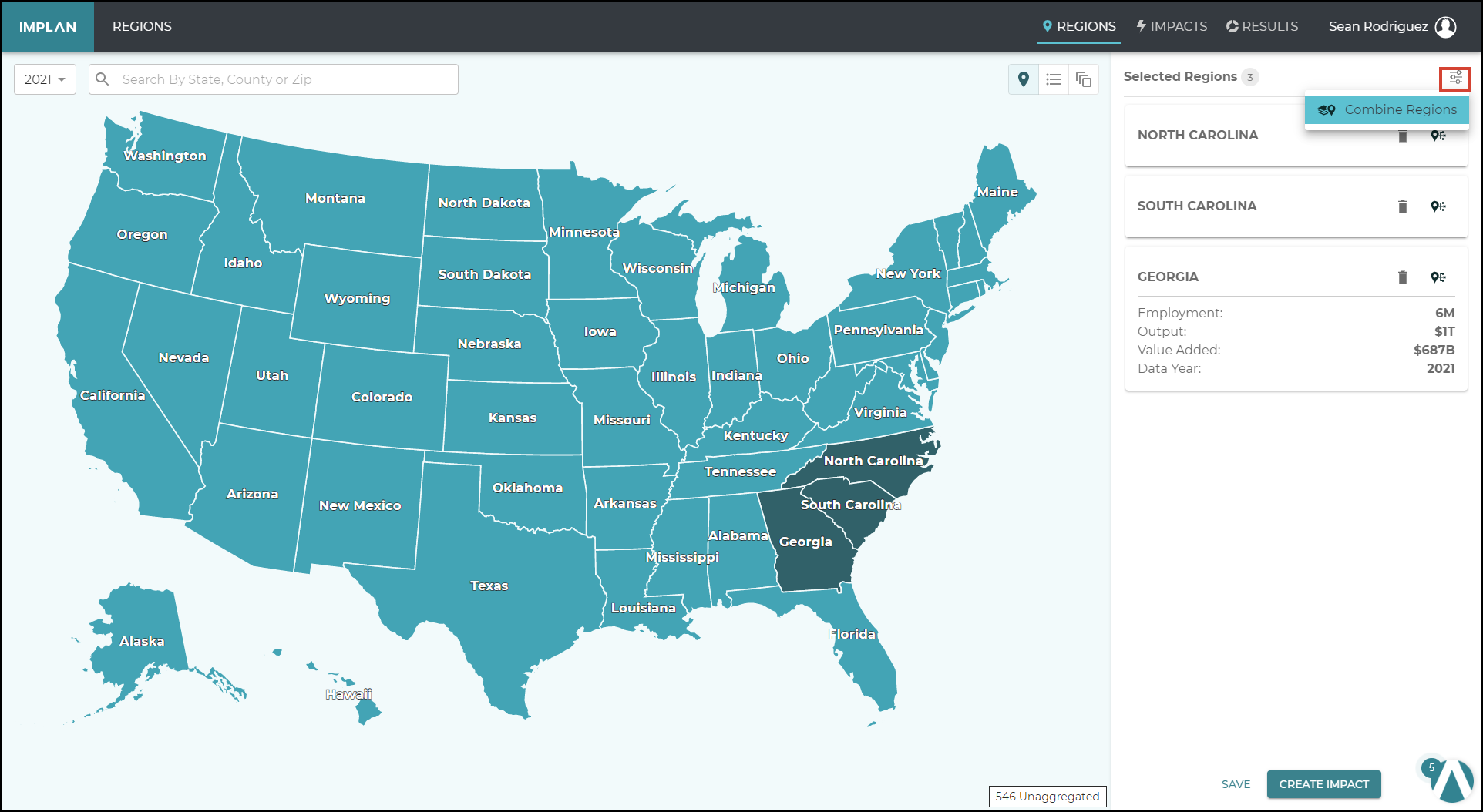 A popup will appear asking you to name your new Combined Region. Remember to give it a unique name that makes sense, as this will now be saved to your account and searchable from your Regions or Impacts screen.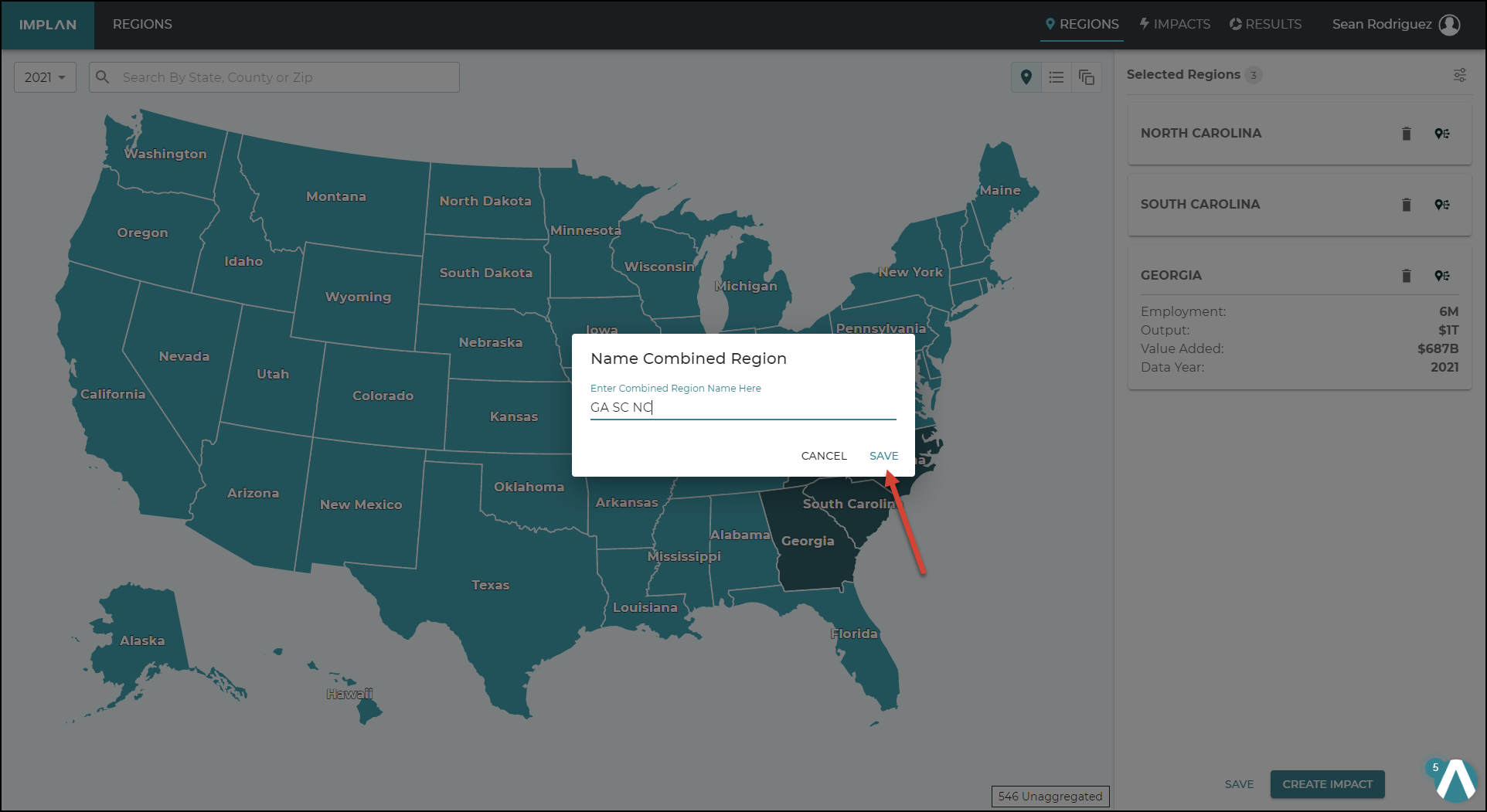 IMPLAN is now building your Combined Region. You will know it is complete when the teal icon appears next to the Region Details as shown below.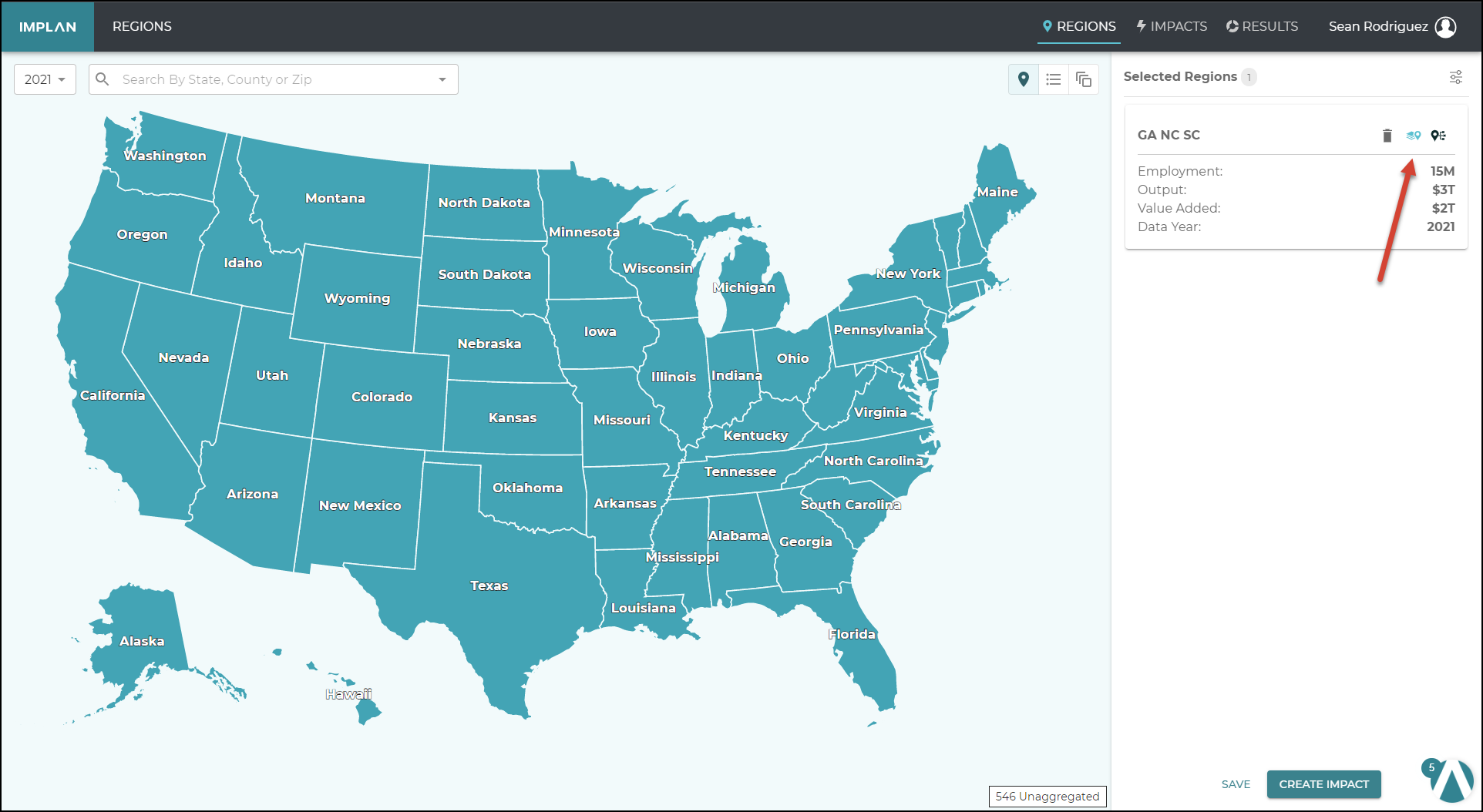 You can now proceed with your analysis by clicking Create Impact in the bottom right corner of your screen or click Save to add the Combined Region to a Project.
COMBINING REGIONS FROM REGIONS LIST
The recently updated Regions List view in IMPLAN makes combining Regions a breeze! Access the Regions List view from the Regions screen by clicking on the second icon next to the Selected Regions panel. There are three views Users can toggle between by using the highlighted icons; the Map View, List View, and My Regions. Once a Data Year has been selected, it will remain active in all views until changed by the user.

The new default setting on the List View allows users to add single Regions to their project by selecting them individually or using the add all button. Use the arrows to expand Regions to smaller geographical units and use dropdown menu to change those units from a county to congressional districts or MSAs.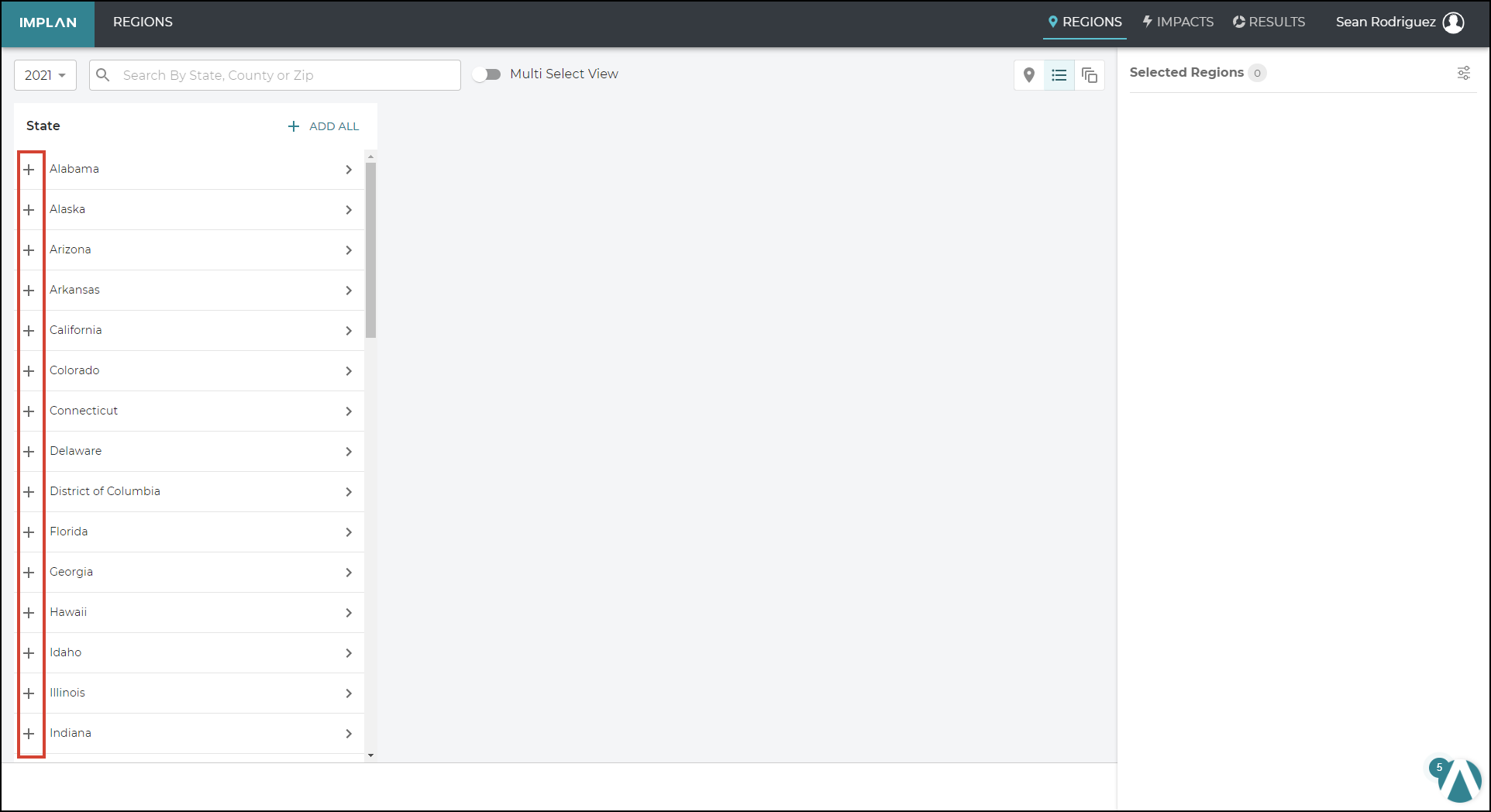 To combine Regions from the List view, toggle on the Multi Select View option using the slider button.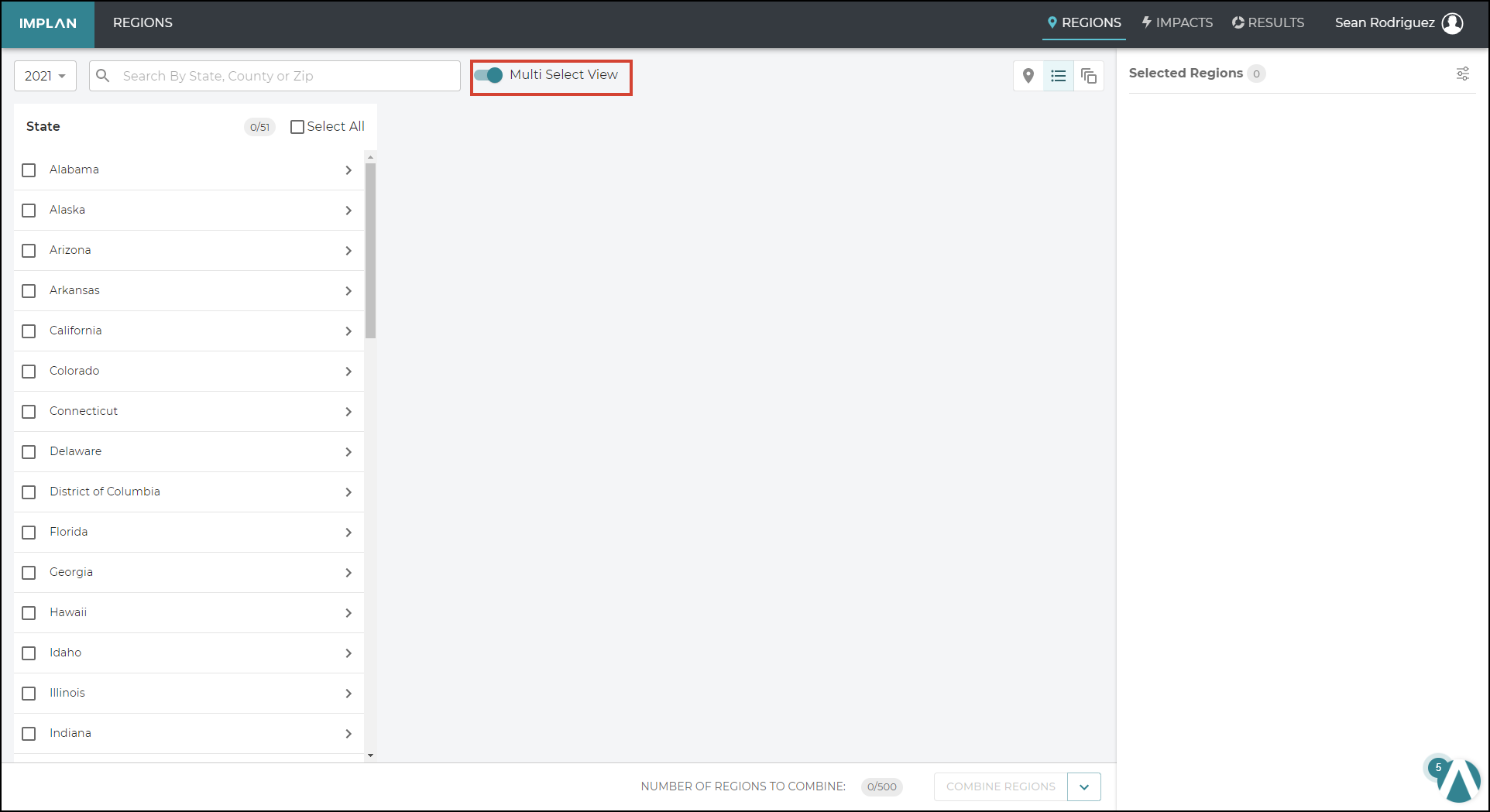 Once enabled, regions will now display a checkbox next to their name for users to indicate their selection. Use the arrows to expand Regions to smaller geographical units, such as county and zip codes.
For example, to see all of the Counties in Alabama, highlight the state by clicking on it. We can see that doing this will bring up a list of all 67 counties in Alabama.

If we wanted to see the Zip Codes for a certain County, say Bibb County Alabama, click it just like we did for the state of Alabama. This will bring up all 8 Zip Codes in Bibb County: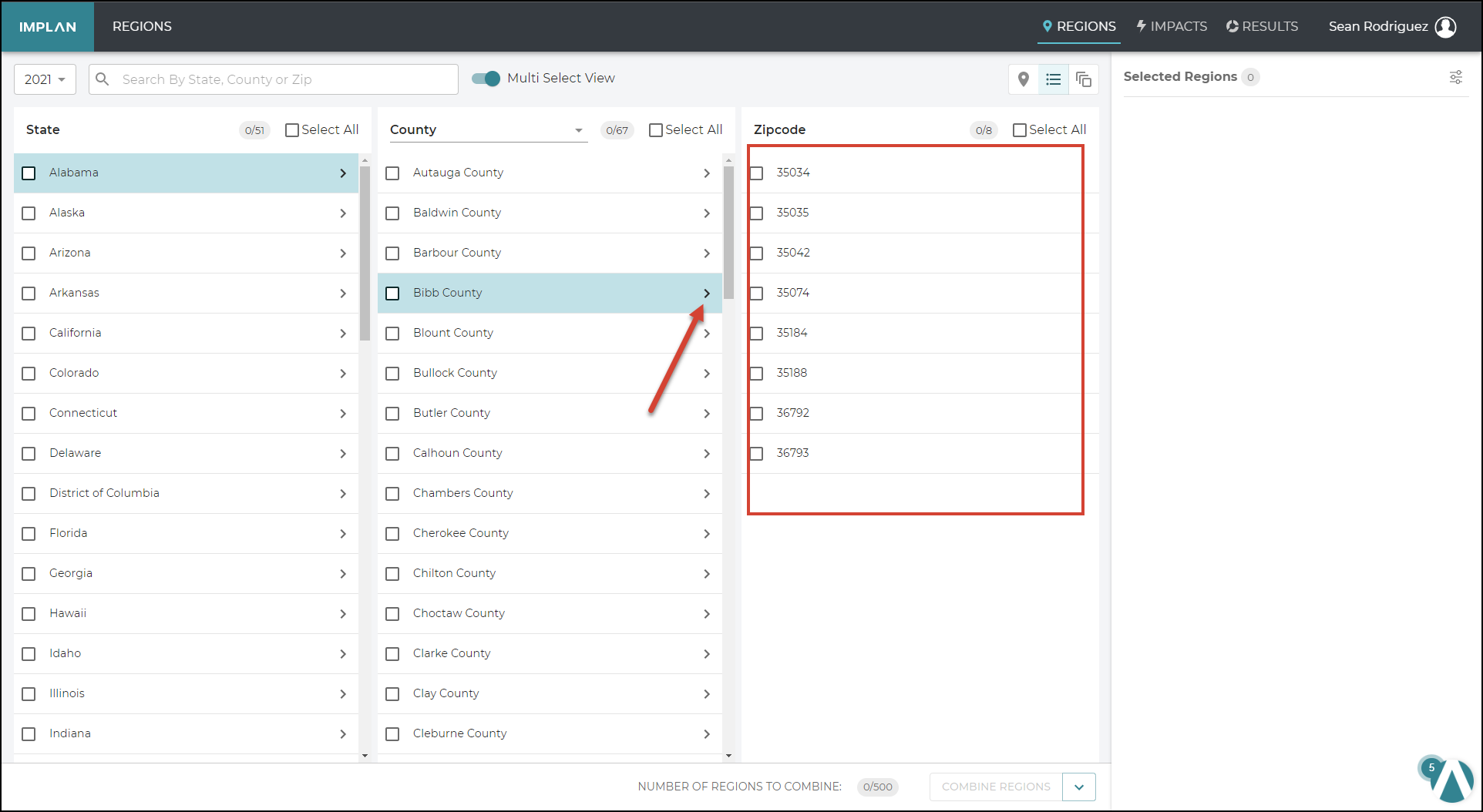 Users may combine any state, county, or zip code together as long as the selected regions do not overlap. For example, the state of North Carolina may be combined with a county in South Carolina, but can not be combined to a county within North Carolina.
Click the checkbox next to the regions you wish to combine and select 'Combine Regions' at the bottom right of the screen. In this example, we are going to set up an MRIO creating a combined region of all counties in Alabama, except Baldwin.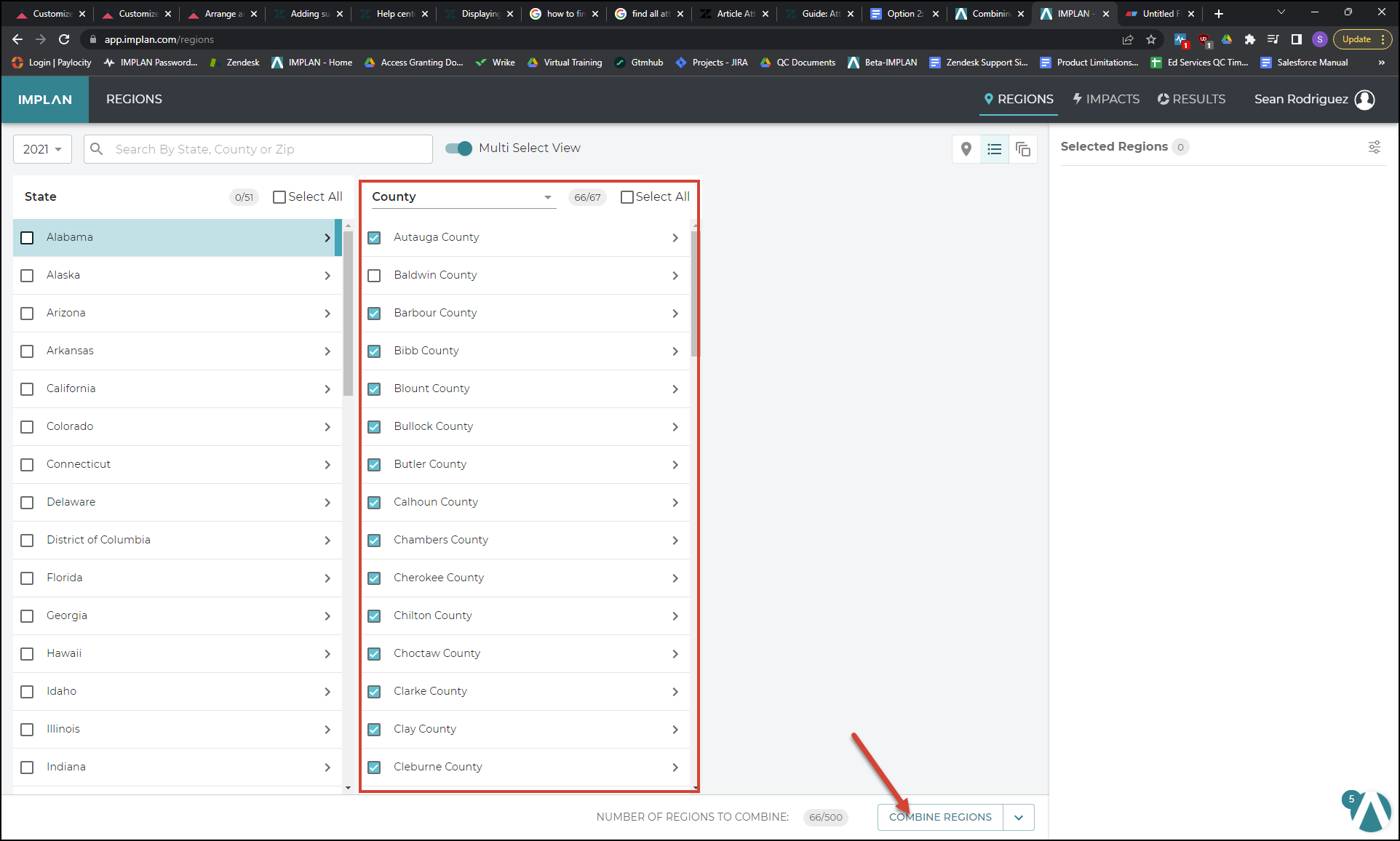 Doing this will prompt you to name your Combined Region. Make sure to choose a unique name that you will be able to remember as Combined Regions are saved to your account and searchable from your Regions or Impacts screen.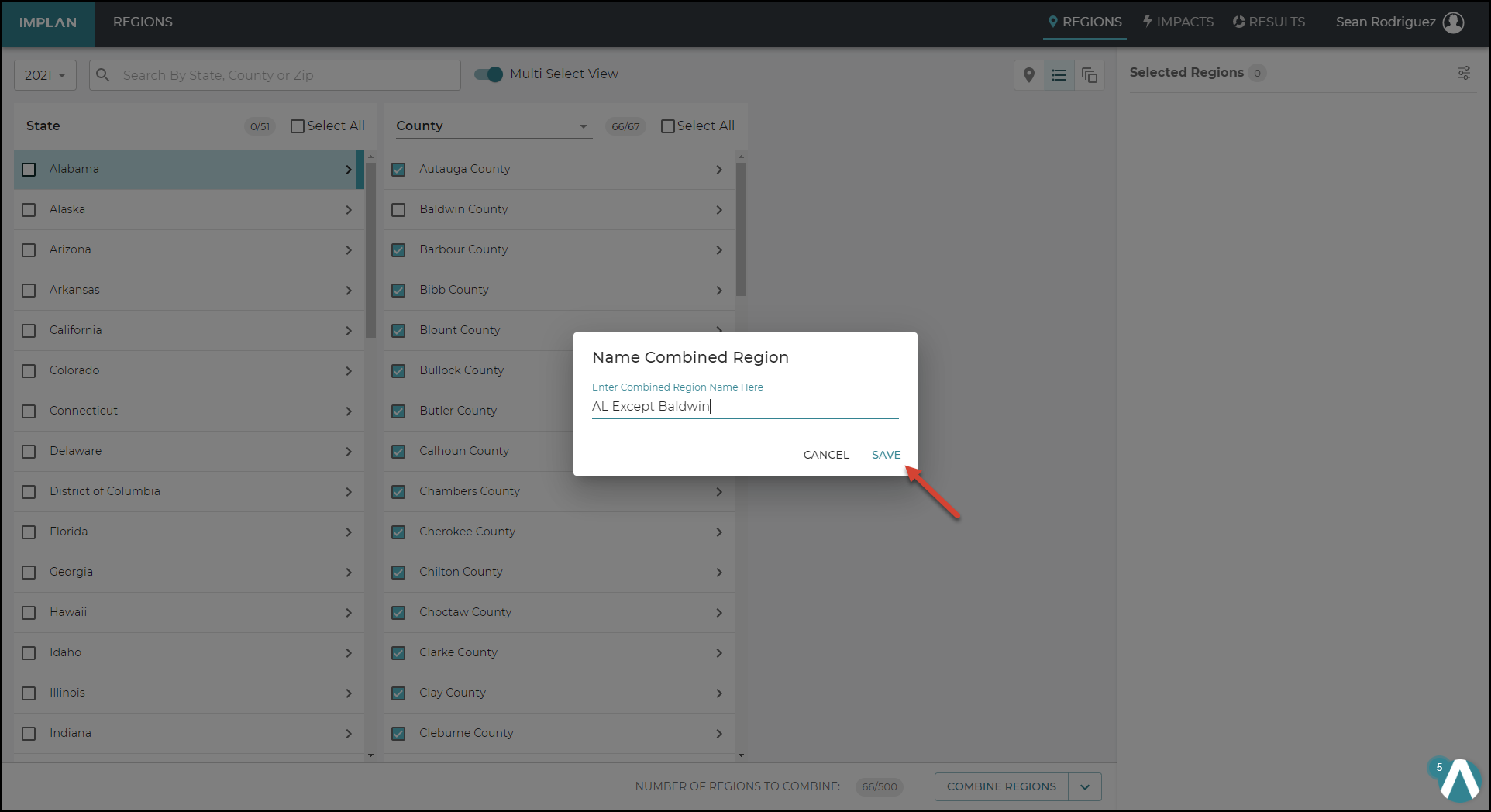 Once combined the new region will appear in the 'Selected Regions' panel on the right. From here you can explore the Region Details of your new Region, create additional Combined Regions, or add Regions.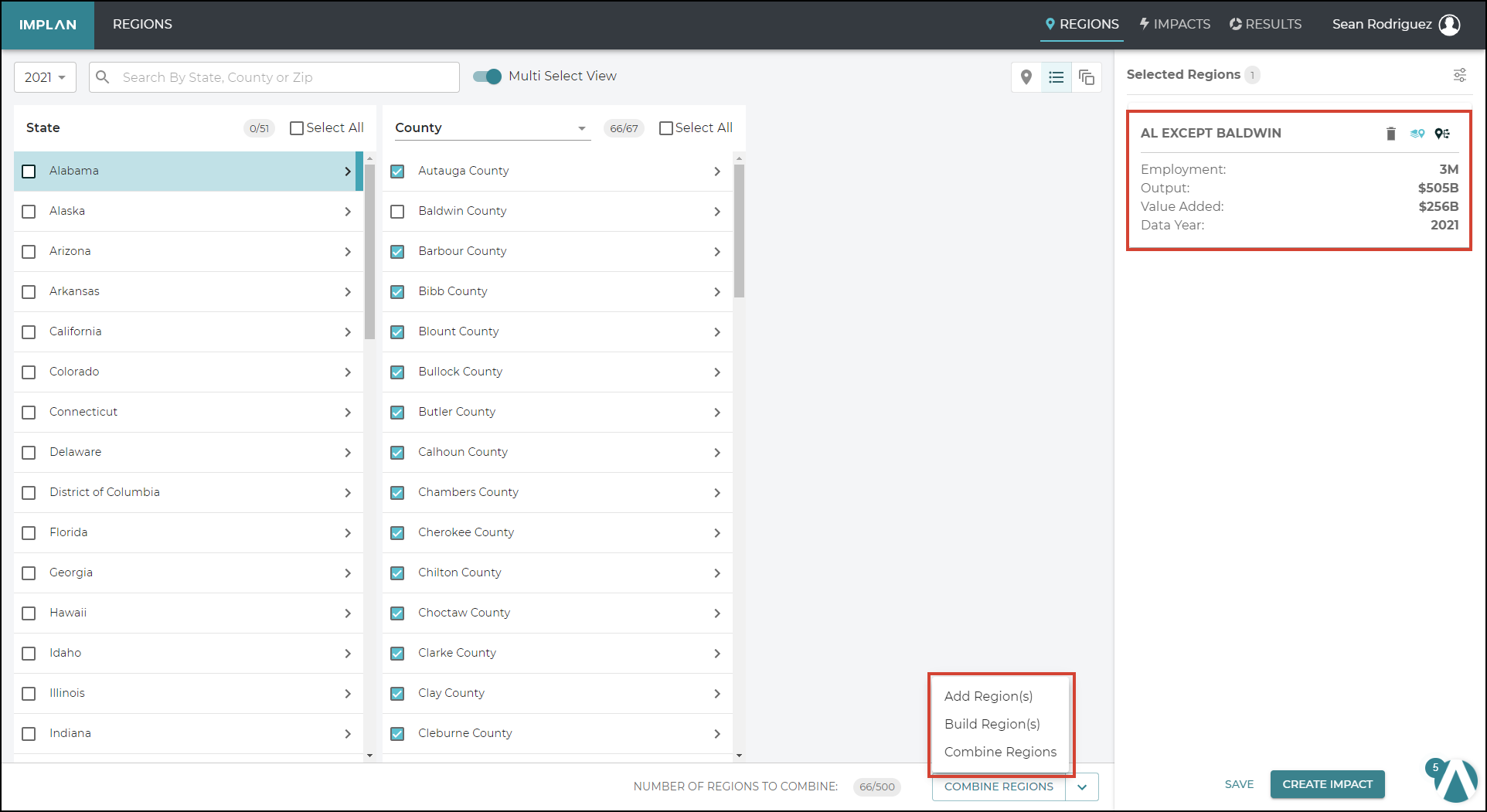 To add single Regions from the Multi Select View, select regions using the checkbox as you would when combining, but use the dropdown menu to change from 'Combine Region' to 'Add Region' or 'Build Region'. Selecting 'Build Region' will add the selected Regions and also automatically build them. This can be a huge timesaver if you are selecting a lot of Regions in a Data Year that you haven't used yet!
As this example shows, the user added Baldwin County to set up their MRIO.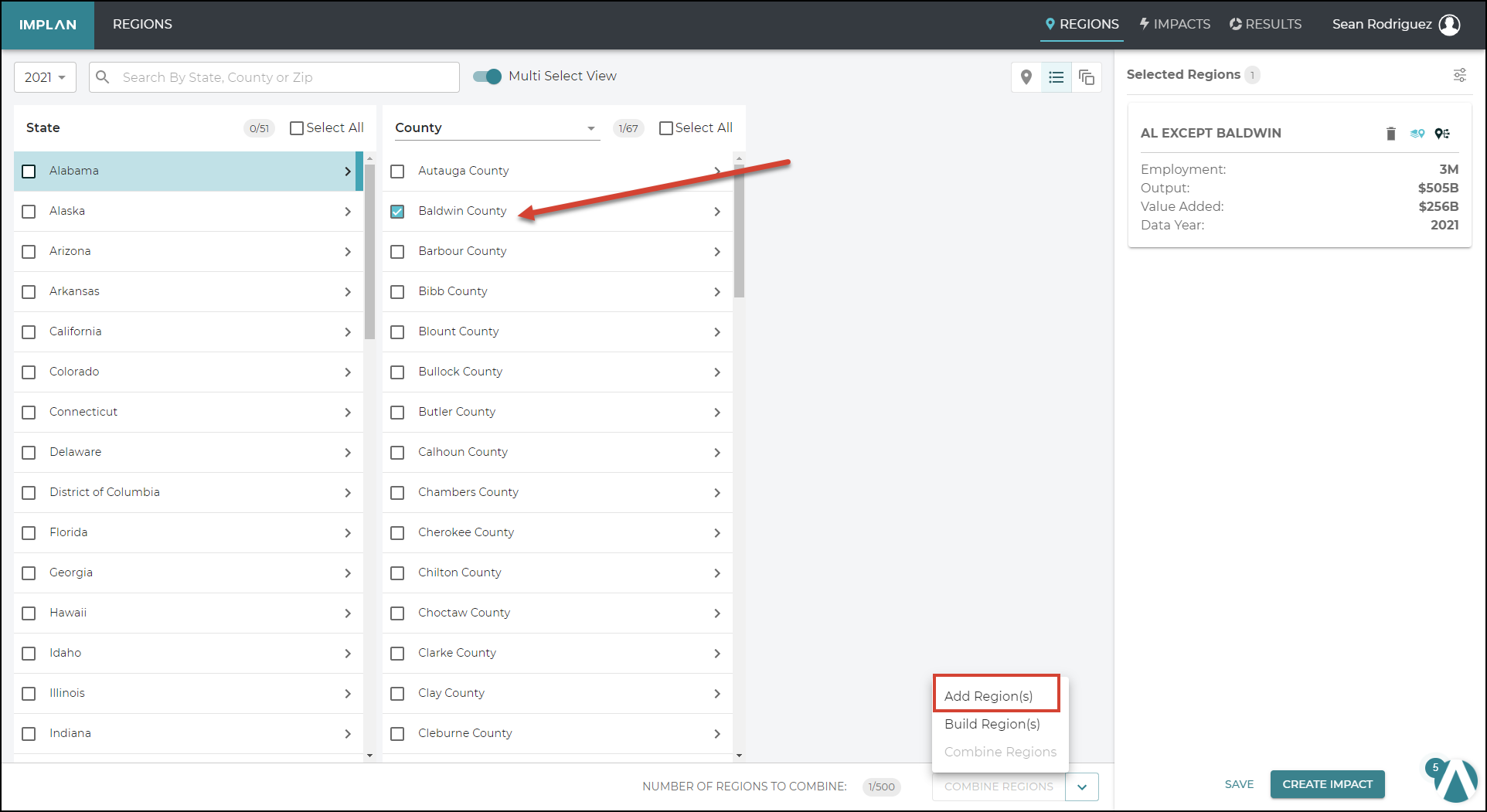 Once you have combined and/or selected all the Regions, select 'Save' to save them to your project or 'Create Impact' to advance to the Impacts screen to add Events.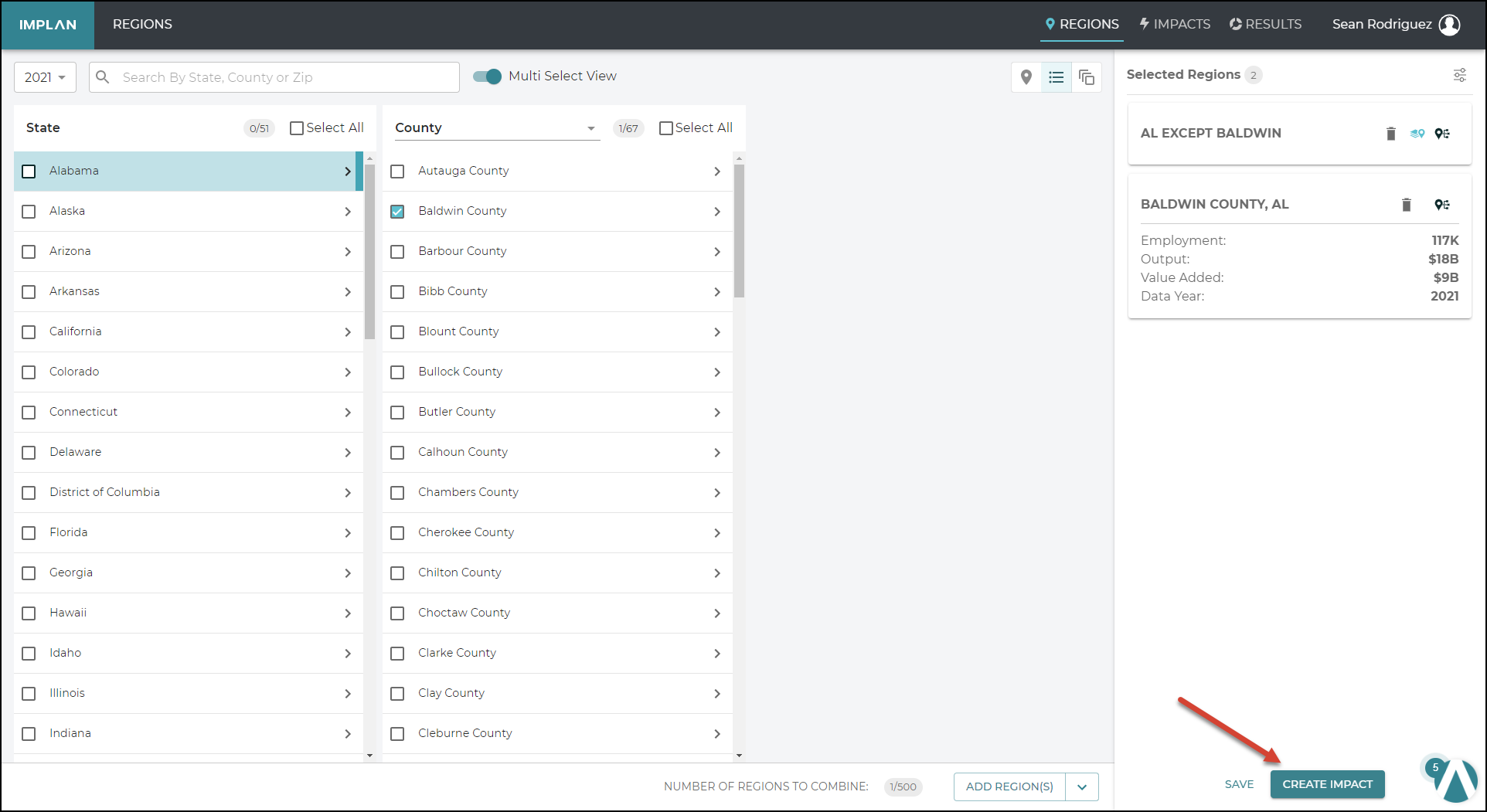 Now that you've Combined Regions, they will show up in your My Regions List View and will be accessible for use in any future projects. You can add them to any project from the My Regions List View by clicking on the 'add' icon. From here can also delete or rename any of your Combined Regions.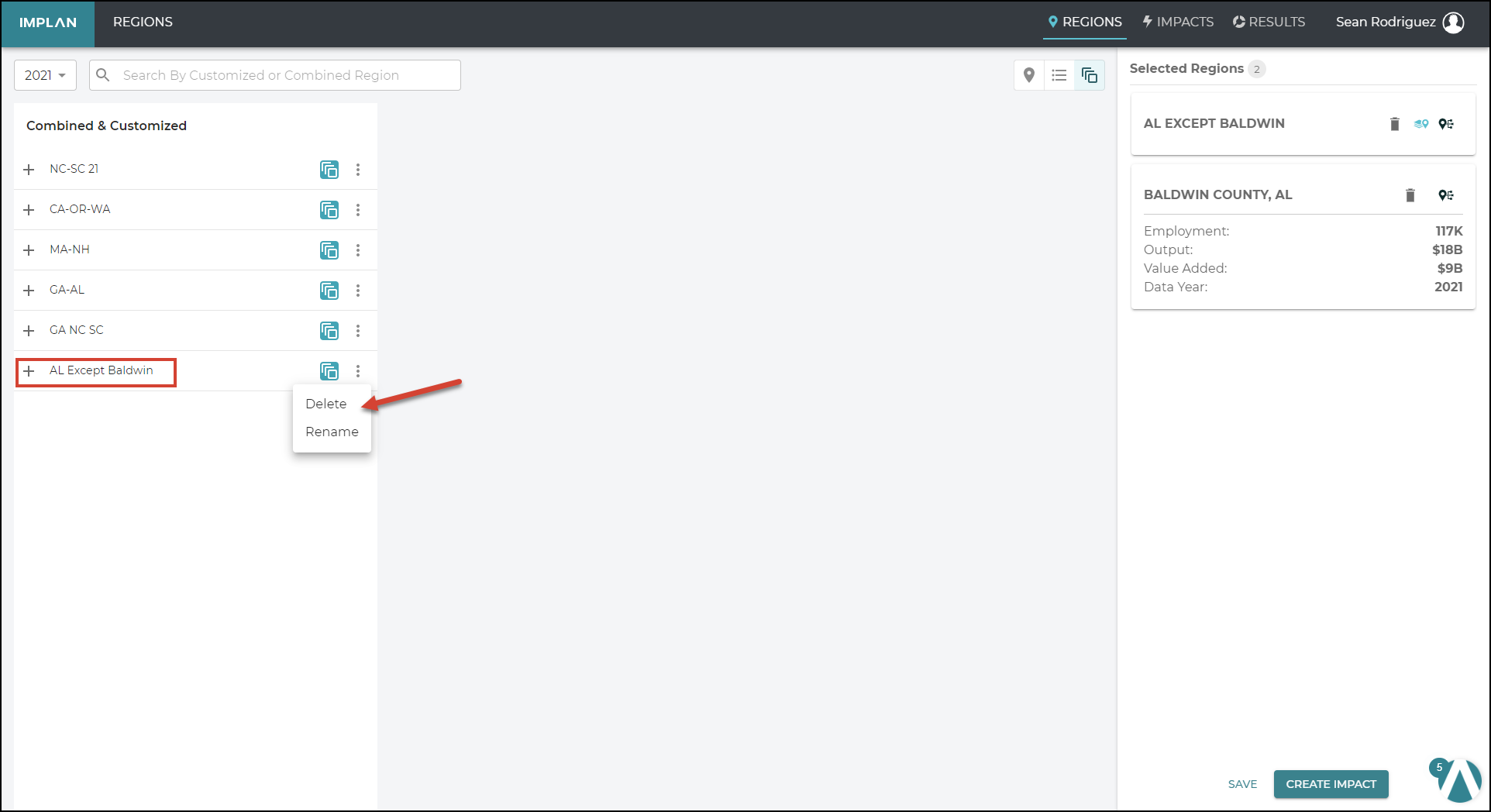 In addition to the My Regions List View, you can find previously Combined Regions by using the search bar near the top left of the Regions screen or in the Group Region dropdown on the Impacts page.[a]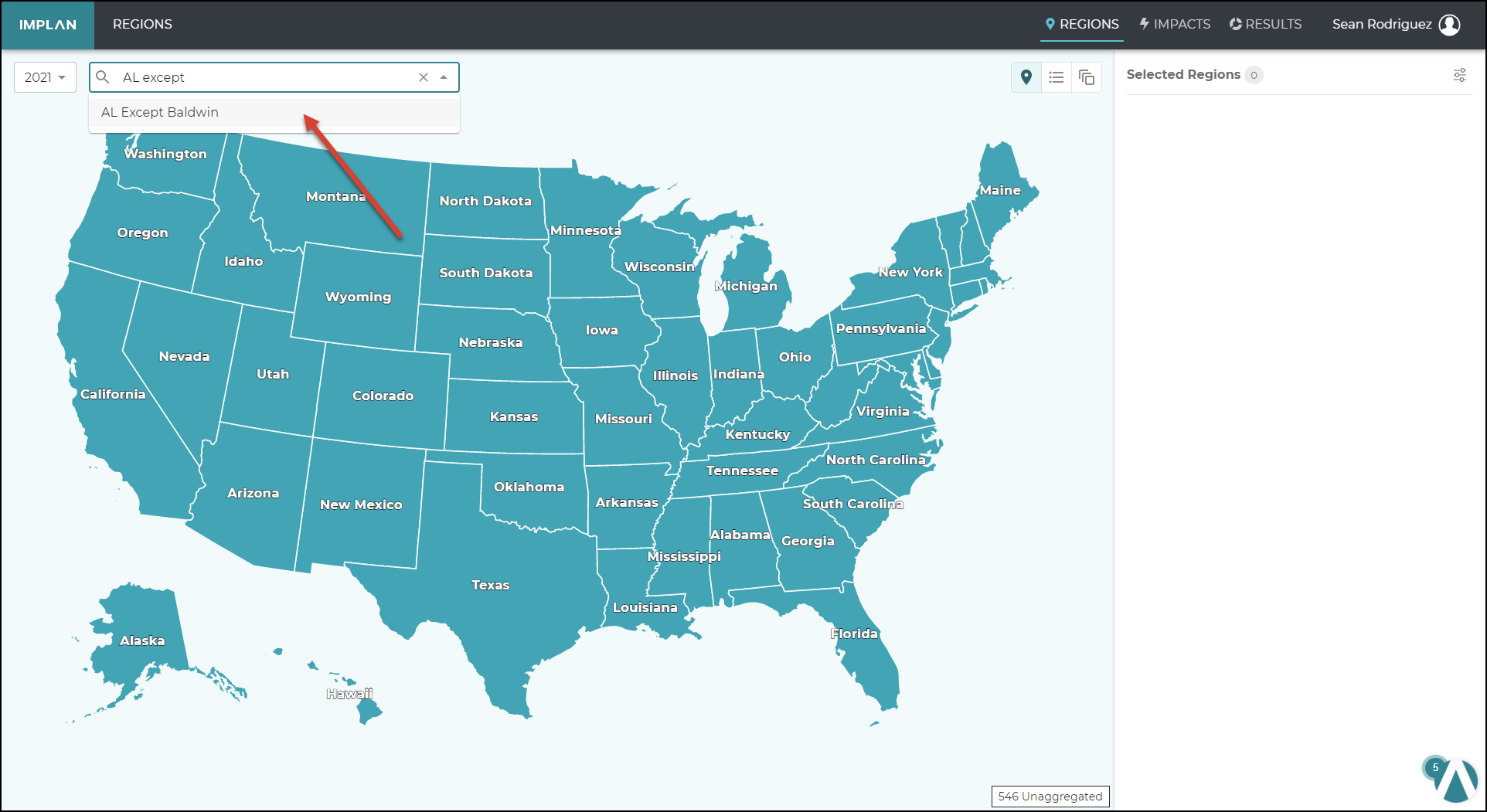 NOTE OF CAUTION
Combined Regions can only be built using state, county and zip code level regions, this also includes US Territories, which can be Combined with other mainland US Regions. Note that you cannot combine a previously Combined Region, or Regions that have been customized. You are free to combine any non-overlapping Regions from the list. You will see the following warning if you try to select a Region that is contained in another selected Region: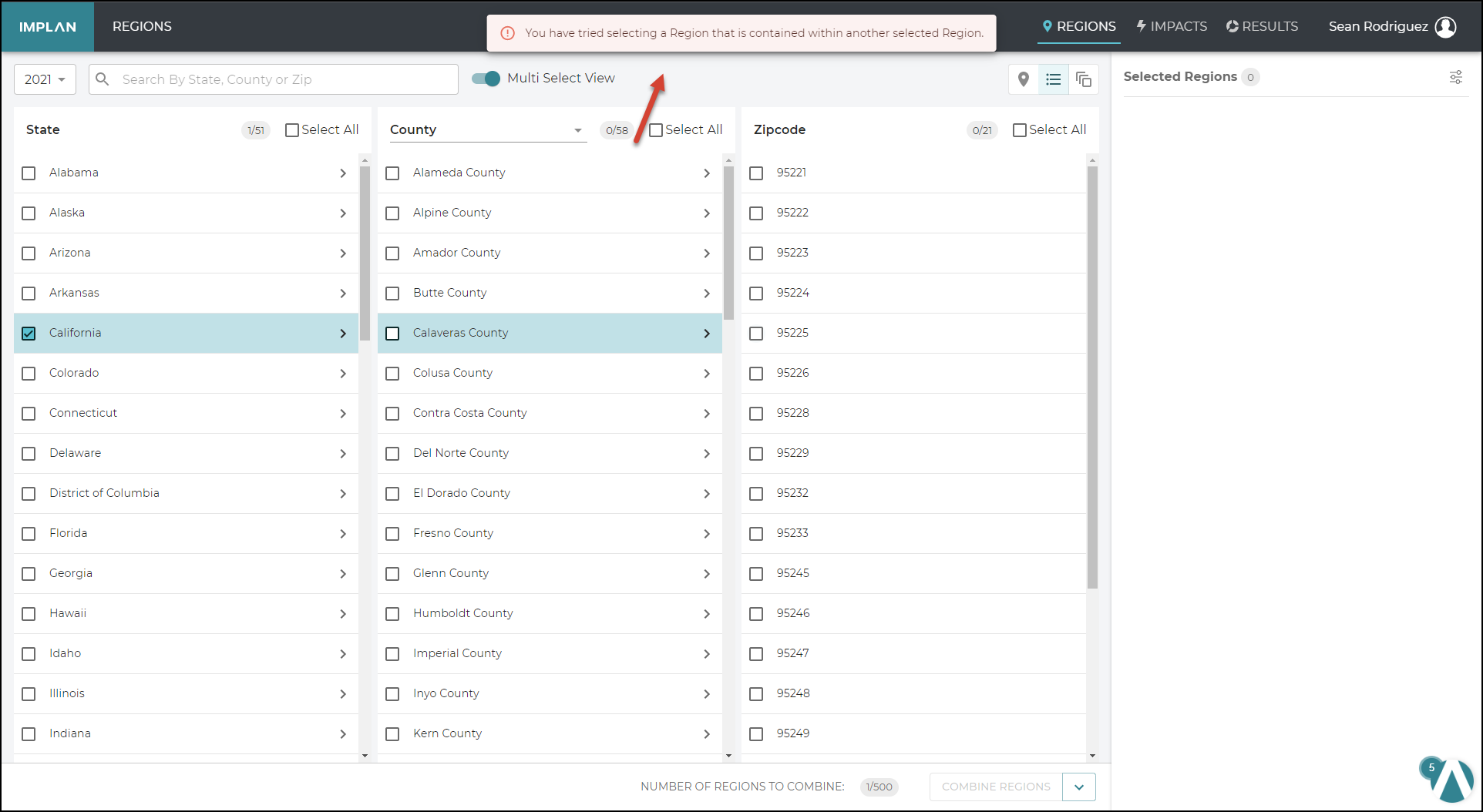 We received this error message because we attempted to select Fresno County with one of its parent Regions, the state of California, for a Combined Region. No matter which approach we take to combine Regions, this will never work as it would count Fresno County twice.
Also, at this time the Region list is limited to selecting 500 Regions to combine at once. At the bottom right of the screen, a running total of all the Regions you have selected is displayed. Once you have exceeded the limit of 500, a warning will appear and the 'Combine Regions' button will be grayed out and is unavailable.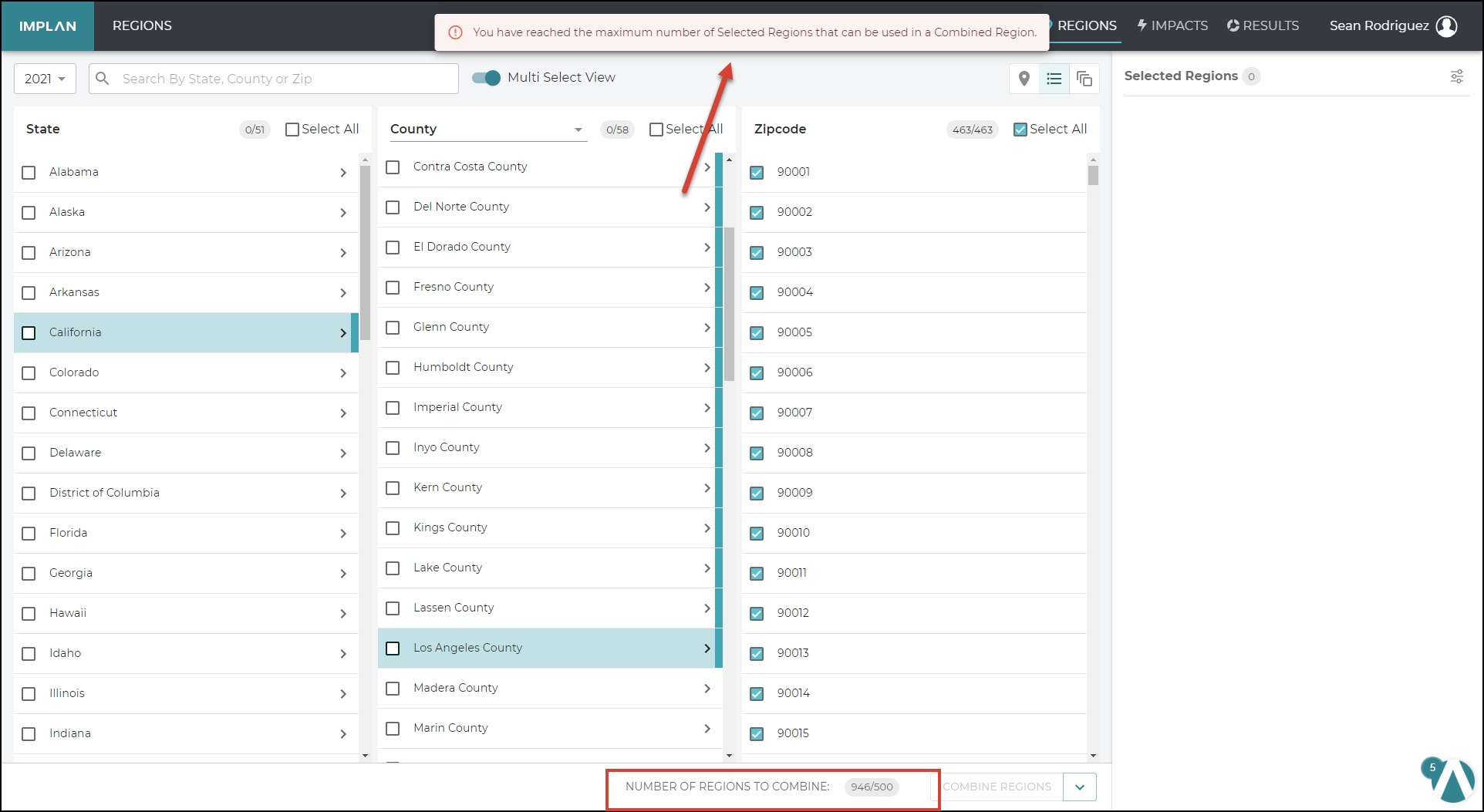 RELATED ARTICLES
Combining Regions from the Map
MRIO: Introduction to Multi-Regional Input-Output Analysis
Written May 12, 2021
Updated December 20, 2022